My Favourite Crewe Alexandra Football Kits
(Posted on 28/07/21)
Crewe Alexandra are my team. The club based in the town of Crewe nicknamed 'The Railwaymen' have played at Gresty Road since 1906 and ever since then they have donned a red home shirt (apart from the 2016-17 home shirt when white was the main kit colour). We've seen a lot of different change kit colours over the years and some interesting patterns and designs but I'm a home kit fan, and that's why the famous red shirts of Crewe Alexandra have filled every posision in my top 5 shirts.
Crewe Alexandra 1989-90 Home Kit By Ribero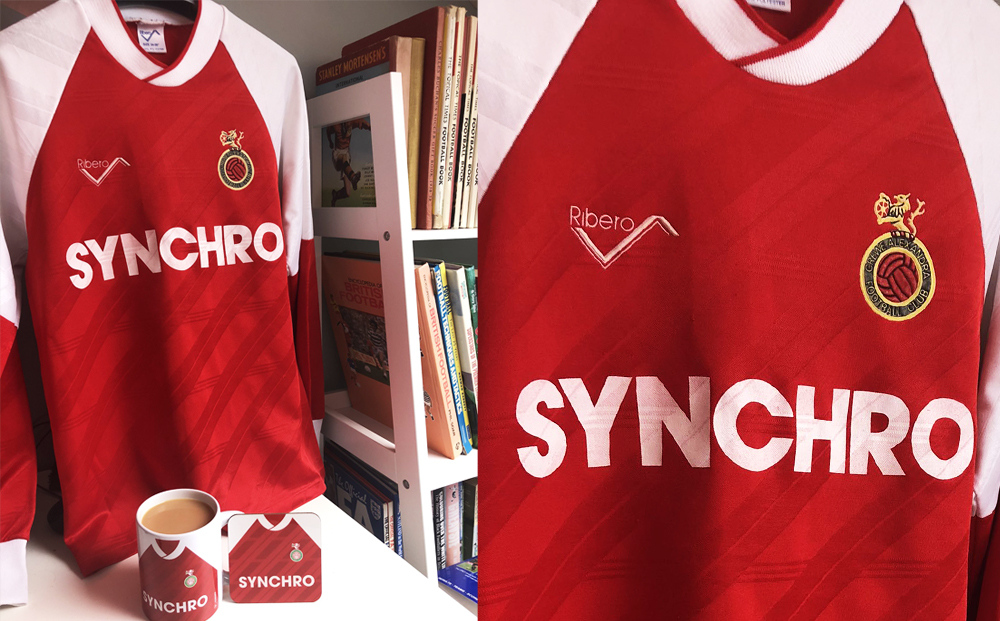 Worn by: Aaron Callaghan, Paul Fishenden, Mark Gardiner, Andy Sussex, Steve Walters
This was the first Crewe Alex replica shirt I ever owned. I'd had a couple of England shirts for birthdays and Christmases prior to that and a knock-off Barcelona jersey which my Great Auntie Sheila brought back from Spain in 1987 (legend has it she bumped into Kevin Keegan at the airport and asked him where she could get one!).
The shirt I have was actually manufactured by Ribero rather than Adidas but it seemed that every lad in the South Cheshire aged 7-11 had one and it was the first time I can remember seeing kids wearing Alex shirts rather than Liverpool or Man Utd at football training.
On the pitch, the Alex had just been promoted to the old Third Division – the first time we had played at that level for 20 years, finishing the season in a very respectable 12th place. I attended my first game at Gresty Road during this season so, although it is by no means my favourite design, it certainly holds special memories for me.
Crewe Alexandra 1992-93 Home Kit By Matchwinner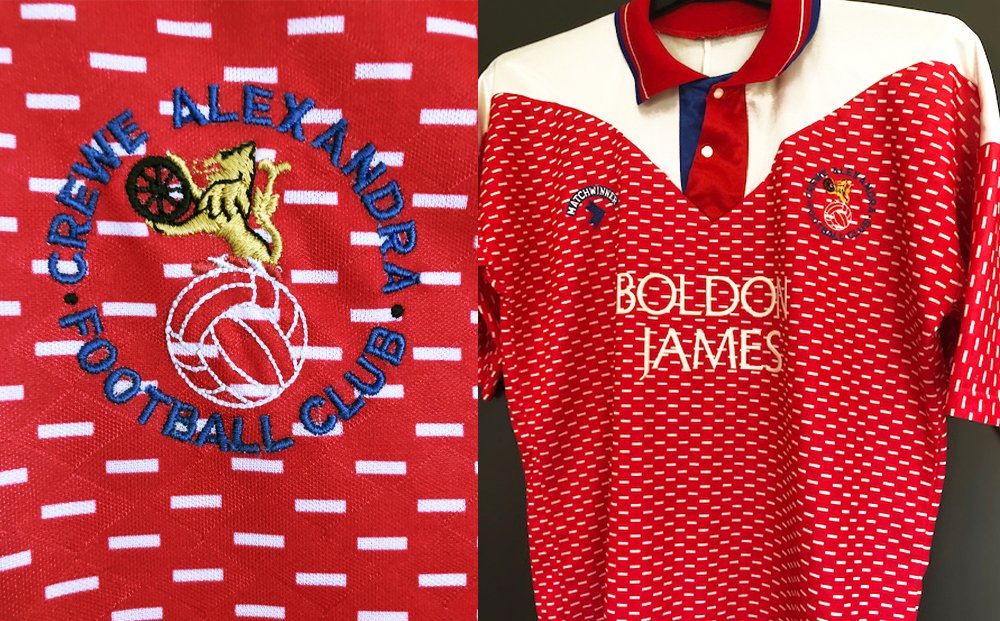 Worn by: Dave McKearney, Darren Carr, Stewart Evans, Craig Hignett, Tony Naylor
The 1992-93 season is the season I really went from being an occasional visitor to Gresty Road to a regular – attending every home game in all competitions and going to my first away games too.
Although the season ended in tears (penalty defeat in a play-off final the day before your 14th birthday will do that to you!) this shirt is synonymous with a good attacking side who beat West Ham and gave both Nottingham Forest and Blackburn Rovers a good game in that season's cup competitions.
The shirt itself, in a certain light and certainly from distance, had a rather pink hue to it which would have put some teenage boys off at that time but I still preferred it to the blue away version, particularly as that is what we wore in defeat to York City in the aforementioned play-off final!
Crewe Alexandra 1993-94 Home Kit By Matchwinner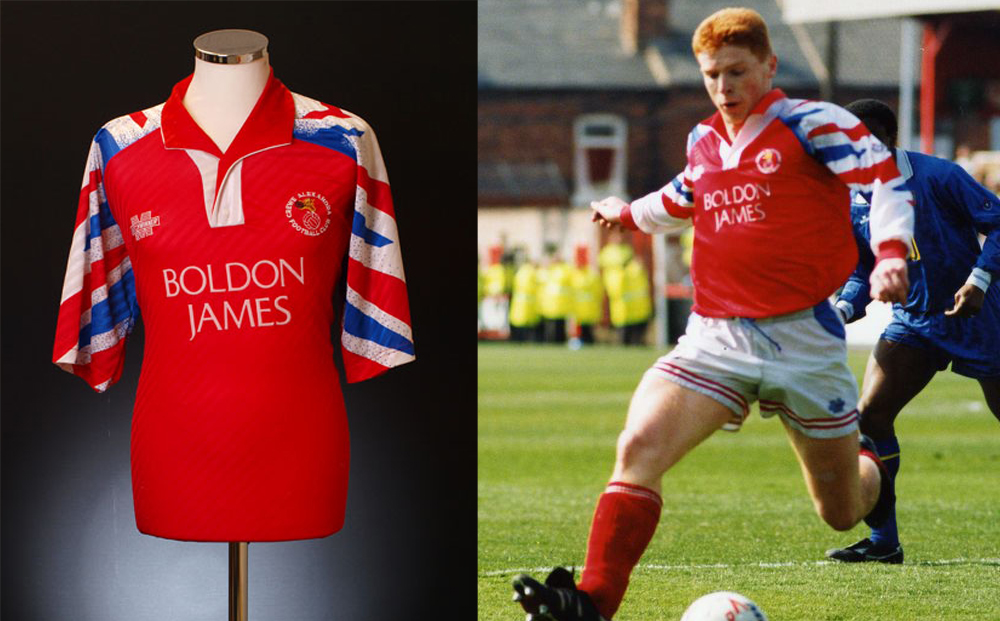 Worn by: Neil Lennon, Tony Naylor, Darran Rowbotham, Ashley Ward, Gareth Whalley
This was the fourth and final season the Alex kit was supplied by Matchwinner and, for me, this is the best of those shirts. A return to the white sleeves of 1988-90 but with added splashes of red and white – you could almost imagine a Team GB side wearing it.
Aside from the last game of the season away at Chester, the most memorable match I can recall in which the Alex wore this shirt would have to be Danny Murphy's home debut. It was 17th December 1993 (I remember this because it was my Mum's birthday!) and Murph came off the bench to score the winner in a 4-3 win over Preston.
At the end of the season, The Alex gained automatic promotion to the third tier at the third time of asking – the thought of that final game of the season at Chester City's Deva Stadium still gives me goosebumps to this day.
Crewe Alexandra 1996-97 Home Kit By adidas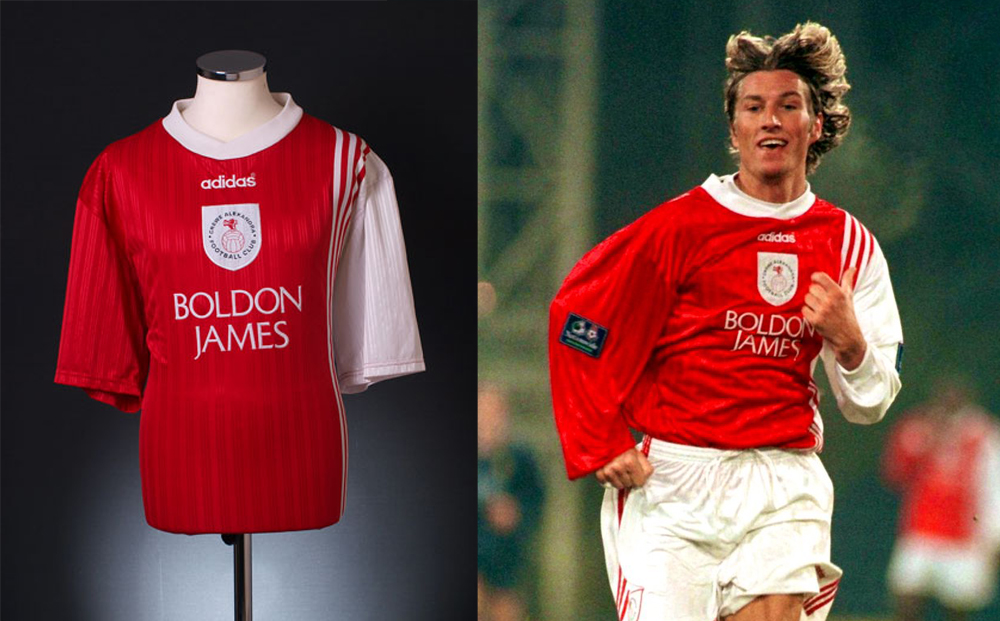 Worn by: Dele Adebola, Danny Murphy, Robbie Savage, Shaun Smith, Gareth Whalley … and my cousin Sam who was a mascot at Wembley!
As mentioned above, Crewe had worn Adidas from 1985-1990 but in the early-mid '90s our preferred manufacturers were the lesser known Matchwinner and Vandanel.
I was 17 in 1996 and, if I am being totally honest, a little bit of fashion/kit snobbery had started to creep in. With that in mind, imagine my delight when it was announced that my hometown club were returning to "Die Weltmarke Mit Den 3 Streifen" just in time for me to splurge my first pay packet on their new shirt!
After reaching the Division Two play-offs in the two previous campaigns, there were high hopes for the 1996-97 campaign as Dario Gradi had assembled a squad with a great balance of experience and exciting young talent – Seth Johnson, Danny Murphy (England) and Robbie Savage (Wales) all went on to represent their countries at senior level whilst Ashley M. Westwood and Gareth Whalley both played Premier League football after leaving Gresty Road.
Obviously, this shirt holds very special memories as it was worn by the team which secured promotion to the second tier of English football for the first time since 1896!
Crewe Alexandra 2004-05 Home Kit By Reebok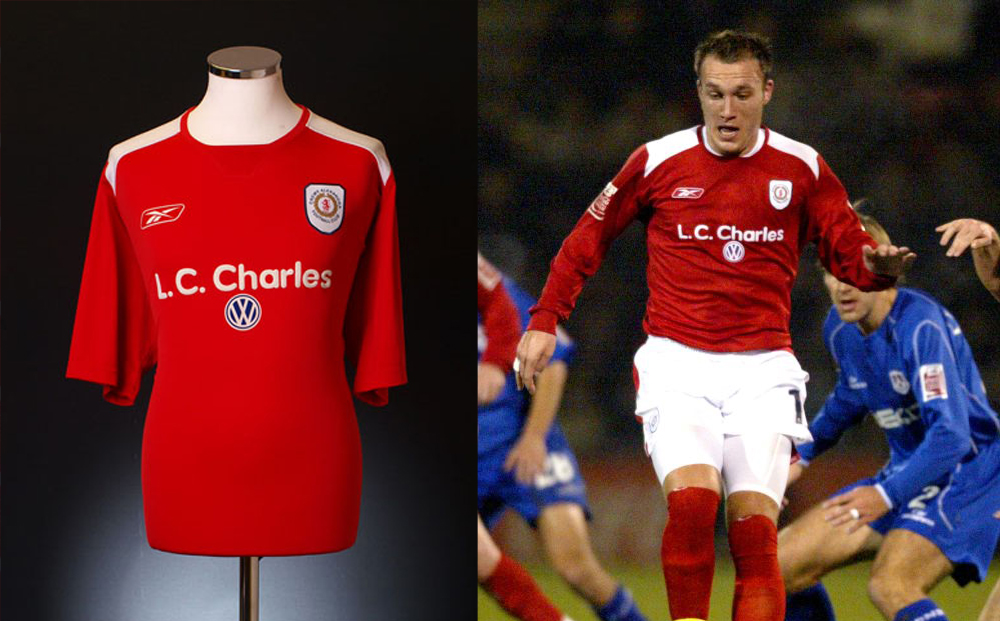 Worn by: Dean Ashton, Kenny Lunt, Adie Moses, Mark Rivers, David Vaughan
This shirt brings back great memories of what must be one of the greatest examples of "a season of two halves" any club has ever experienced. Between August and January 1st, propelled by the goals of Dean Ashton who was simply unplayable at times, The Railwaymen threatened to make an unlikely push for the play-offs.
Sadly, as with most things in life, all good things had to come to an end and after scoring in a memorable 2-0 victory over Leeds United on New Year's Day 2005 (the second most hungover I have ever been at any football match!) Norwich City made an offer The Alex couldn't refuse and Deano left for Norfolk and the Premier League.
After losing the talismanic Ashton, who was just 21 at the time, Crewe fell to pieces and went on a run of 18 league games without a win – only a 2-1 victory over Coventry City on the last game of the season saved us from relegation.
Words by Crewe fan Ade of Rothmans Years
Latest from VFS blog
If you're a football fan, and even if you're not, you probably know the fact that...
Liverpool have stepped out at Anfield in some great kits over the years. Having been manufactured by...
Probably the most famous season in the recent history of Newcastle United was in the mid-...
Leeds United haven't been in the top flight of English football for a lot of the younger generations...
Manchester United had come close to winning the league title before the first Premier League&nbsp...
It's probably not the collaboration we were expecting when Club Tijuana and Star Wars...