Top 5: The Best Ever Liverpool Kits
(Posted on 10/12/21)
Liverpool have stepped out at Anfield in some great kits over the years. Having been manufactured by top brands such as Umbro, adidas, Reebok, New Balance and Nike over the last 30 years they have had some of the best and unique designs of any Premier League team. Okay, let's get straight into it, in no particular order here are our Top 5 Liverpool Kits.
Liverpool 1989-91 home kit by adidas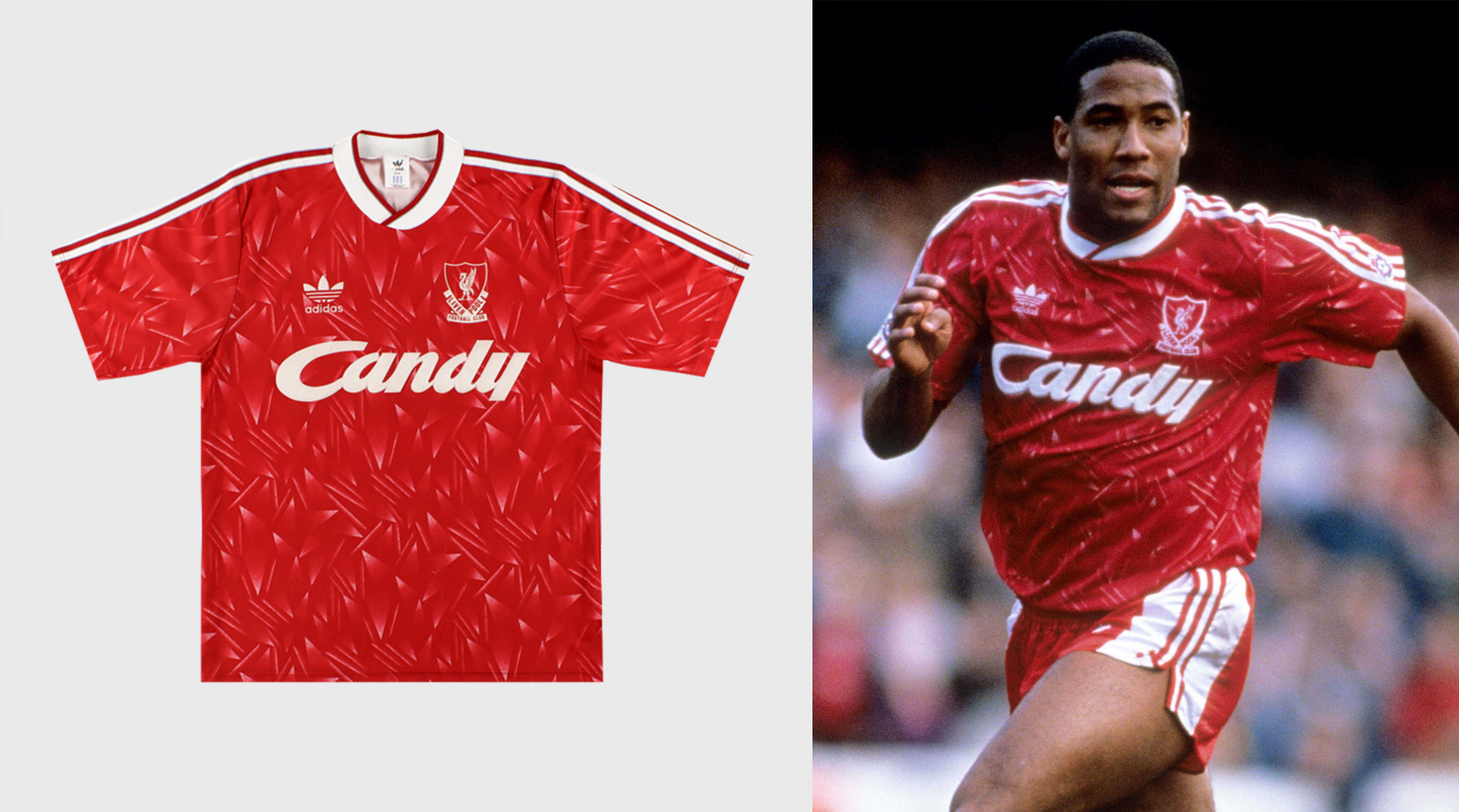 Probably the easiest decision of all the kits, this 1989-91 Liverpool home kit design from adidas is not only revolutionary, with it being one of the first designs to feature such a strong background pattern, it was worn when Liverpool lifted the old first division trophy, equivalent to the Premier League today. They probably didn't expect that they would have to wait 30 years to win it again! You can't argue with this one being in the top 5, you just have to decide if it's the greatest ever.
Which player does this kit remind you of? You could certainly argue for legendary Liverpool striker Ian Rush but we have to go with England's John Barnes.

Liverpool 2004-06 home by Reebok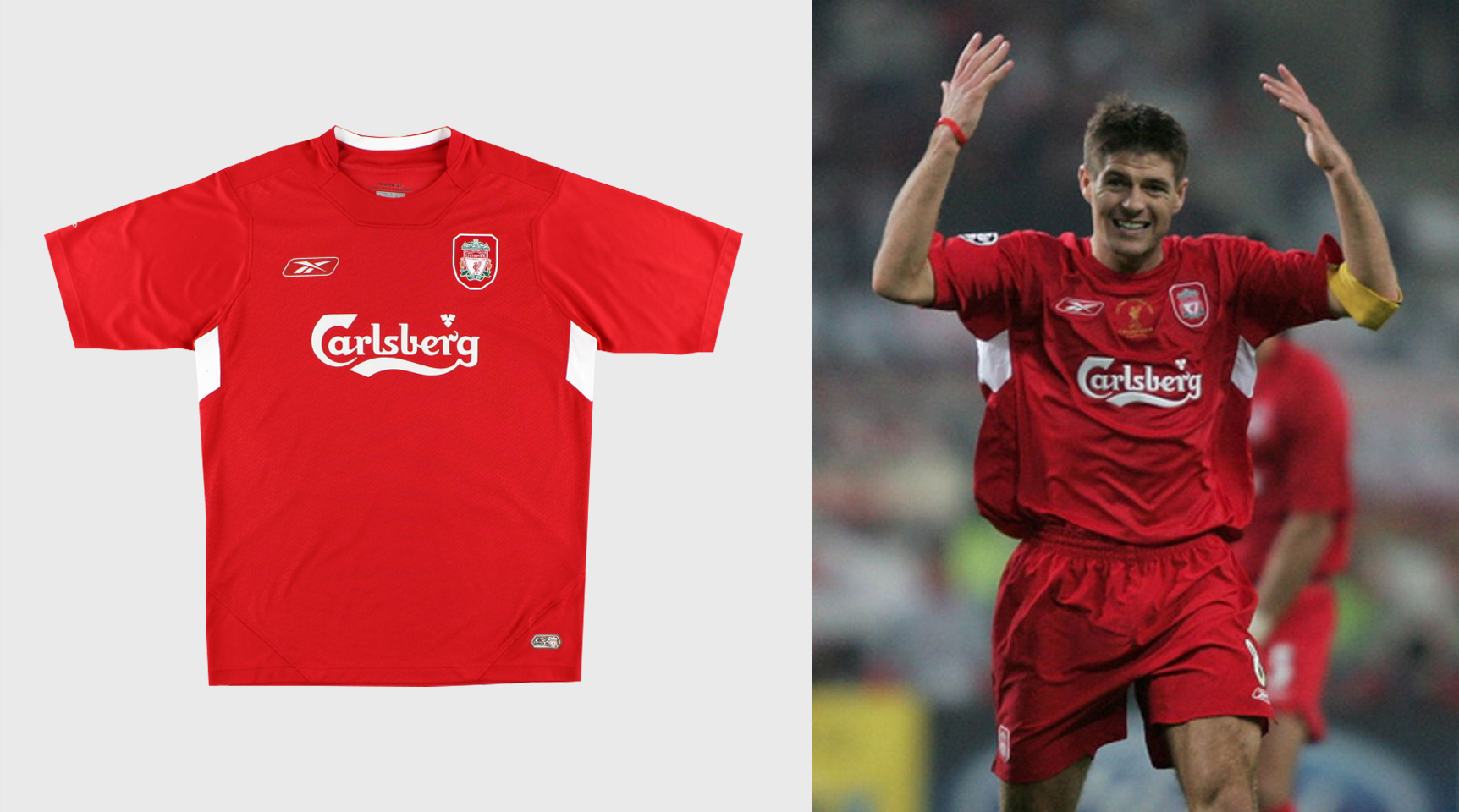 You could maybe argue that this 2004-06 Liverpool home kit would not make the top 5 in terms of design, however, the memories it evokes are certainly enough for it to make the list. Having said this, the subtle pattern sublimated in the material and the white details under the arm are nice features and we'd say it's not far from being a top 5 design in it's own right. But it's the memories that count, this is the home kit that was worn in three of Liverpool's greatest moments in their history. Not just that Champions League Final comeback in 2005 but in the group stage Steven Gerrard scored a screamer against Olympiakos to keep them in the competition wearing this design. A year later Gerrard was at it again, slamming in a last minute strike against West Ham in the FA Cup Final. A great period to be a Liverpool fan.
Which player does this kit remind you of? We can't look past Steven Gerrard on this one. Straight away we can see his arms being raised to rally the crowd in Istanbul. What. A. Night.

Liverpool 1995-96 Away by adidas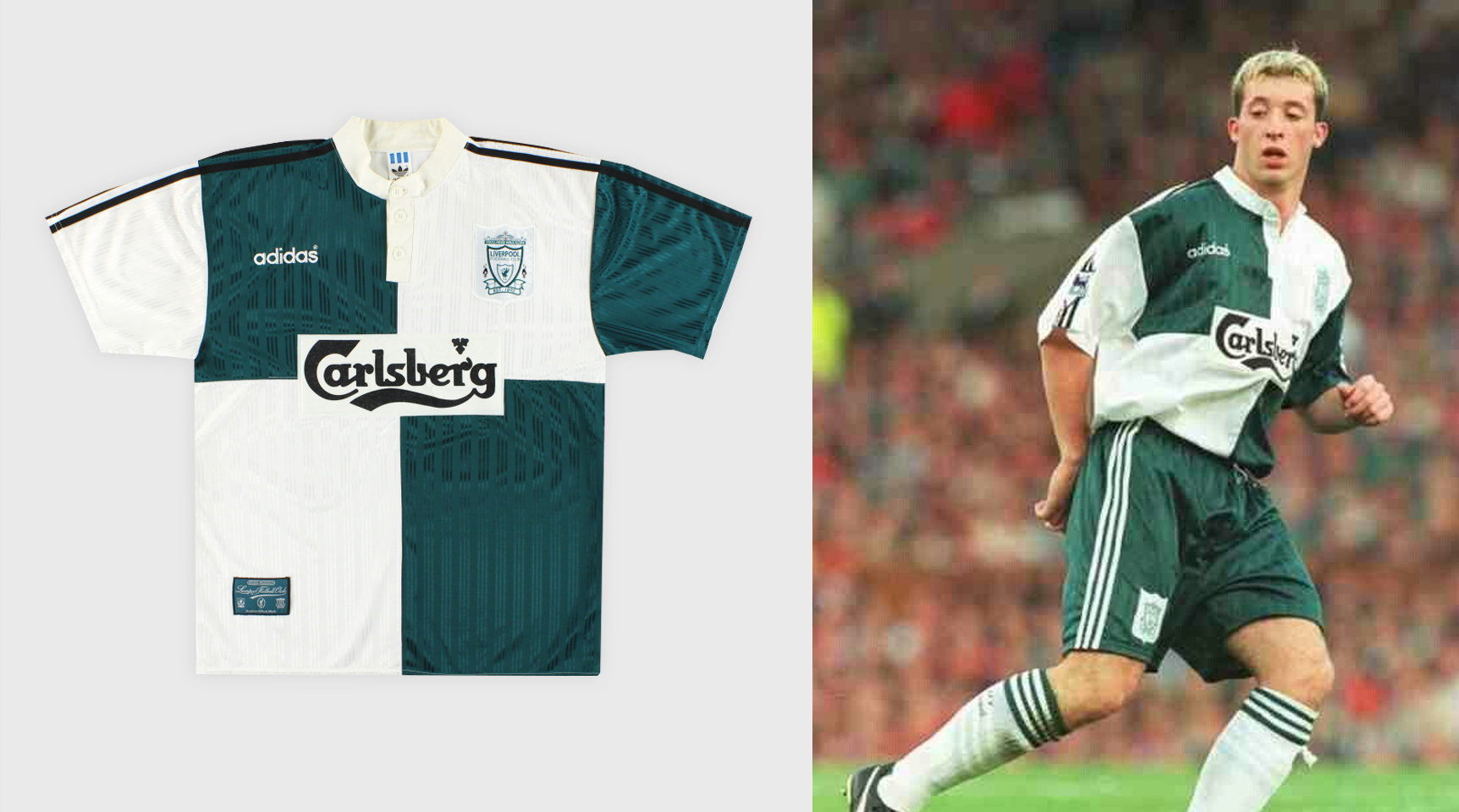 The 1995-96 away might not be every Liverpool fan's favourite kit given what happened when the 'Spice Boys' met Manchester United in the 1996 FA Cup Final but in our opinion it's Liverpool's greatest away kit. The green and off-white quadrant design is not something you'd immediately think would work but adidas did it brilliantly. The adidas logo, crest and lower patch are colour matched in off-white and green and the black accents on the vintage Carlsberg sponsor and adidas stripes elevate the design. Pair all this with a vintage grandad collar and that's a recipe for a great shirt. It's classic 90s adidas.
Which player does this kit remind you of? It's Robbie Fowler for us. Bleached hair Robbie Fowler!

Liverpool 1993-95 Home by adidas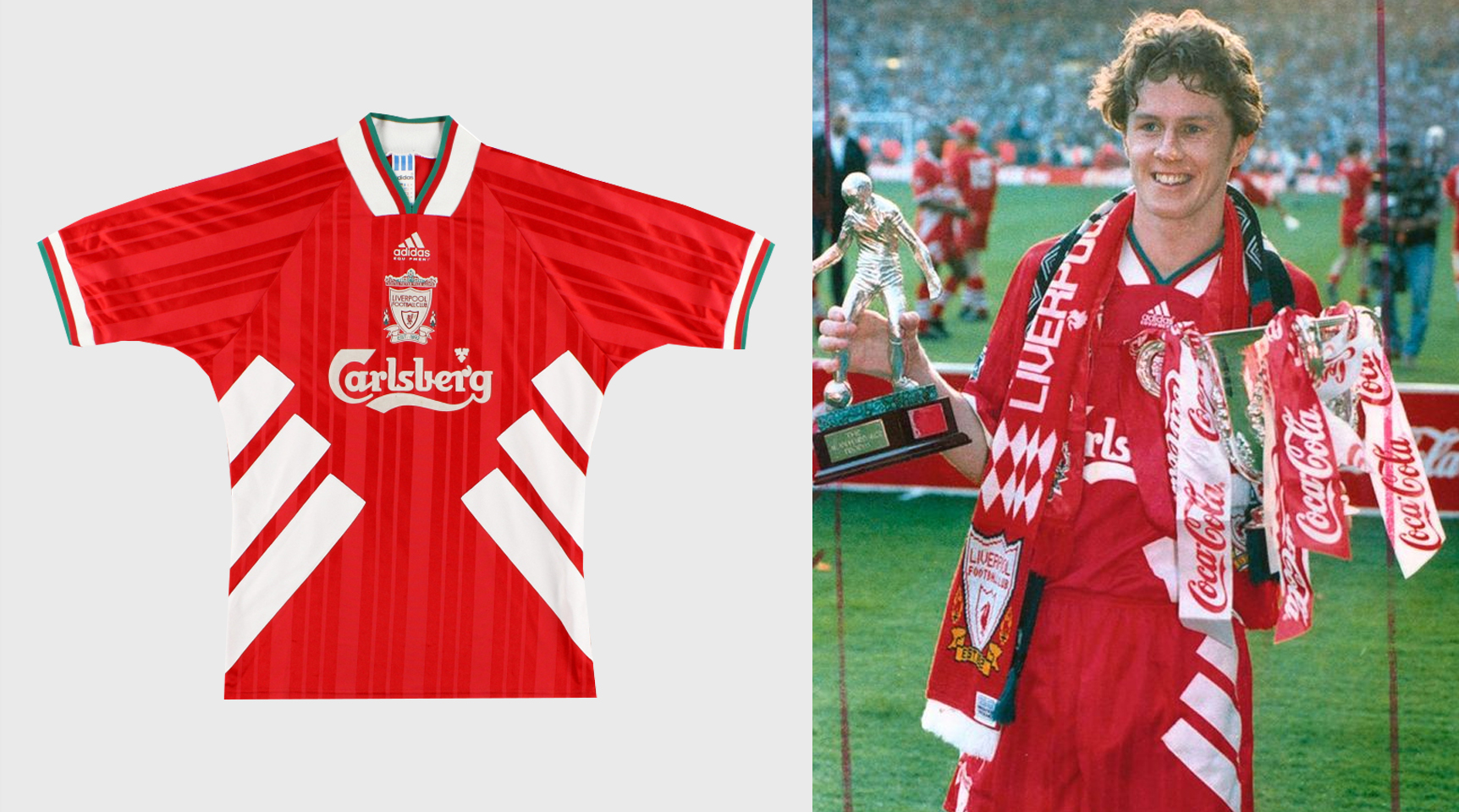 As you can gather from the list so far we love vintage 90s adidas and here's another one, the 1993-95 home kit. We're not sure if it would be in everyone's best Liverpool kits list but we're not here to make everyone happy! There's something aesthetically pleasing about the symmetry of a centralised crest design and adidas managed to make this symmetry even more apparent with three stripes emanating from the lower sides of the shirt. It's just brilliant.
Which player does this kit remind you of? We could have gone for Fowler again but something makes us think of Steve Mcmanaman and his jinking runs.

Liverpool 2019-20 Home by New Balance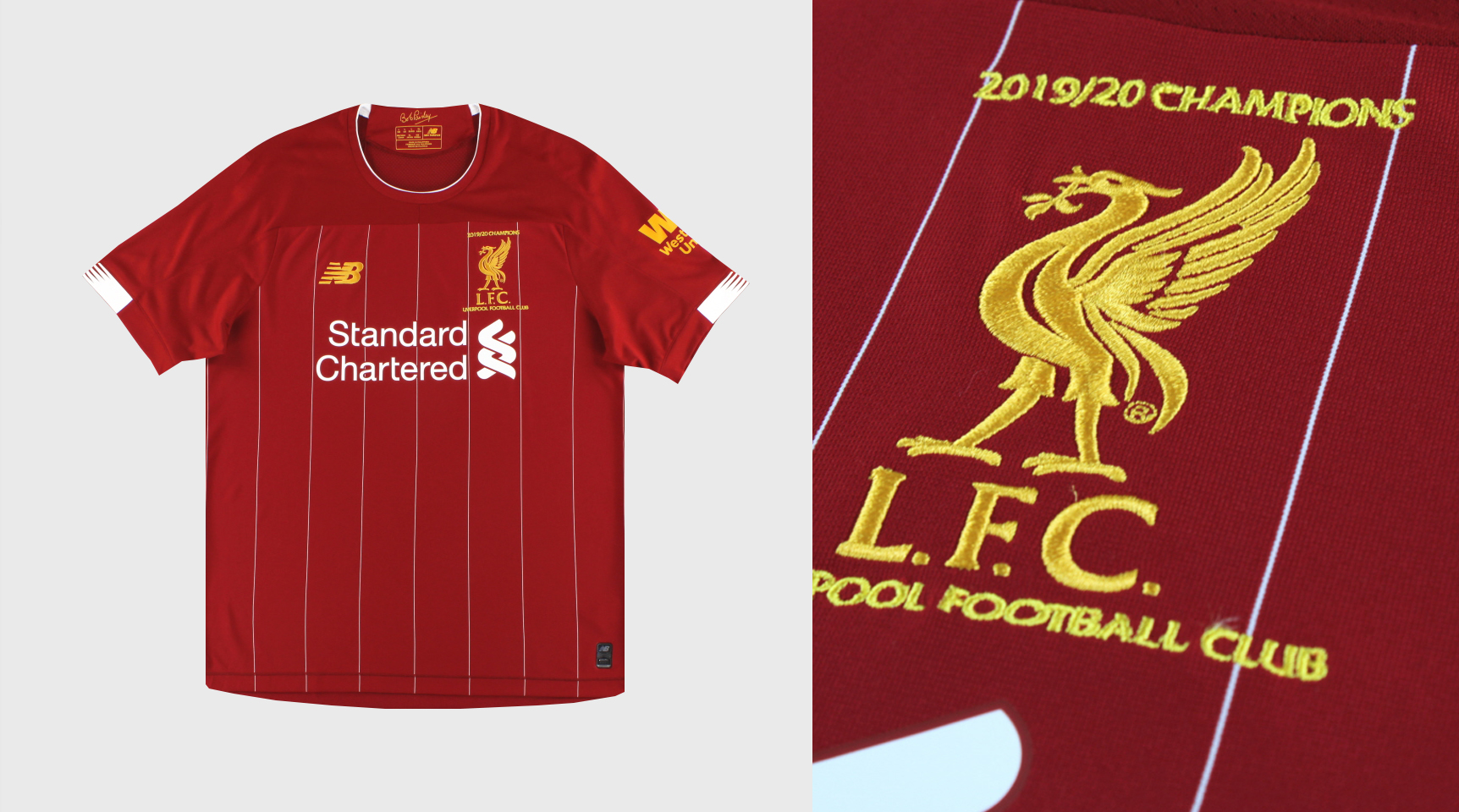 We could have picked either of the last two New Balance shirts but we're going to go with their last one from the 2019-20 season, the Premier League Champions kit. Winning the league after 30 years of hurt was just too much not to elevate this home kit to legendary status. The kit features a classic pinstripe design which is inspired by the home kit worn in 1982-85, most notably in the 1984 European Cup Final win over Roma. Yes, that spaghetti leg penalty shootout match! The same shirt was released with Premier League Champions embroidery to celebrate the momentous occation after the season, the last Liverpool kit released by New Balance before the controversial move to Nike.
Which player does this kit remind you of? Could be Henderson as he lifted the trophy but it's got to be Mohamed Salah, The Egyptian King.
Let us know if you agree with our top 5 and remember to take a look through all our current vintage Liverpool kits.
Latest from VFS blog
Have Venezia just done it again? Kappa and Venezia Football Club have unveiled their much-anticipated...
Inter Milan and Nike have unveiled their new home kit for the 2022-23 season.The new home shirt...
The new West Ham 2022-23 home shirt has been released which is influenced by a vintage hammers...
Tottenham Hotspur have revealed their new 2022-2023 Home kit by Nike. Spurs' new shirt sees...
The new Barcelona 2022-23 home kit celebrates the 30th anniversary of the Barcelona Olympics...
Unless you've been living under a rock for over a decade you'll know that Manchester...