The Shirts of Arsenal's 2003-04 Invincible Season
(Posted on 18/12/21)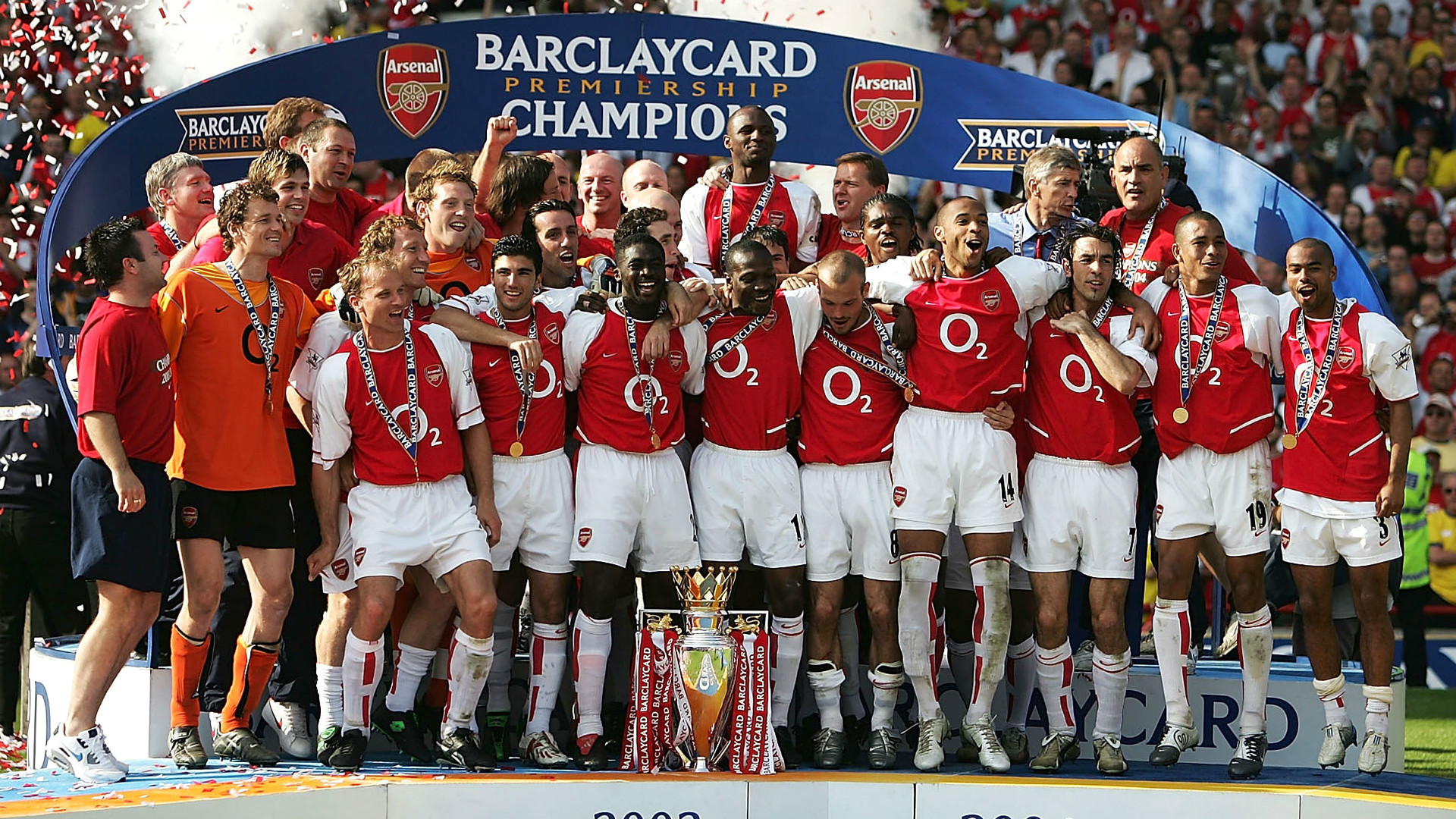 If you're a football fan, and even if you're not, you probably know the fact that Arsenal went all-season unbeaten in the 2003-04 Premier League. It was a feat no other team has achieved in EPL history, which when you look back at some of those great title winning squads, it makes you realise just how hard it is to achieve. The players and manager deserve most of the credit of course, but we're going to give a small amount to those great Nike kits worn in the Gunners 'invincible' season.
The late 90s and early 00s were the height of the Arsenal-Manchester United rivalry. It was Vieira vs Keane, Keown vs van Nistelrooy, Wegner vs Ferguson. The type of rivalry that makes football just that bit more interesting. After a treble of title wins going to the red half of Manchester from '99-01, the Gunners completed the league and cup double in 2001-02. Had Arsene Wenger found the formula to beat Alex Ferguson's seemingly unstoppable team? That season he did for sure, and to rub salt in Ferguson's wounds the side lifted the trophy on the Old Trafford pitch. A Theatre of Nightmares for the United fans. That day Wenger hailed the title win as a "shift of power". It did shift for one season, but Man United bounced back to take the 2002-03 title. What did Wenger have up his sleeve for 2003-04?
In the build-up to the 2003-04 season many expected Arsenal and Arsene Wenger to go big in the transfer market and bridge the gap to the leaders, however, the only major signing that summer was German goalkeeper Jens Lehman, who was a replacement for Man City bound club legend David Seaman. Would this be enough? Pundits and journalists didn't seem to think so with most predicting a 2nd or 3rd finish at best.
Arsenal may not have signed any major outfield players but they still had one of the strongest squads to start a Premier League season. We've talked about the goalkeeper already so let's just run through a few of the star names; Ashley Cole, Campbell, Keown, Kolo Toure, Lauren, Gilberto Silva, Parlour, Vieria, Pires, Bergkamp, Ljungberg and Henry. We've listed most of the squad there, but it's so difficult to leave anyone out. However, there was one player that did stand out this season, prime Thierry Henry, who joined an elite group of players to bag 30 goals or more in a Premier League season.
Although only a month in, the famous clash at Old Trafford has to be one of the most memorable moments and probably the most unforgettable 0-0 on record! van Nistelrooy could have stopped Arsenal's unbeaten run fairly quickly if he'd not missed a last minute penalty on that day. It wasn't the miss that everyone remembers, it was Martin Keown jumping right in the face of a dejected Ruud that springs to most minds. Arsenal legend. Man United villain.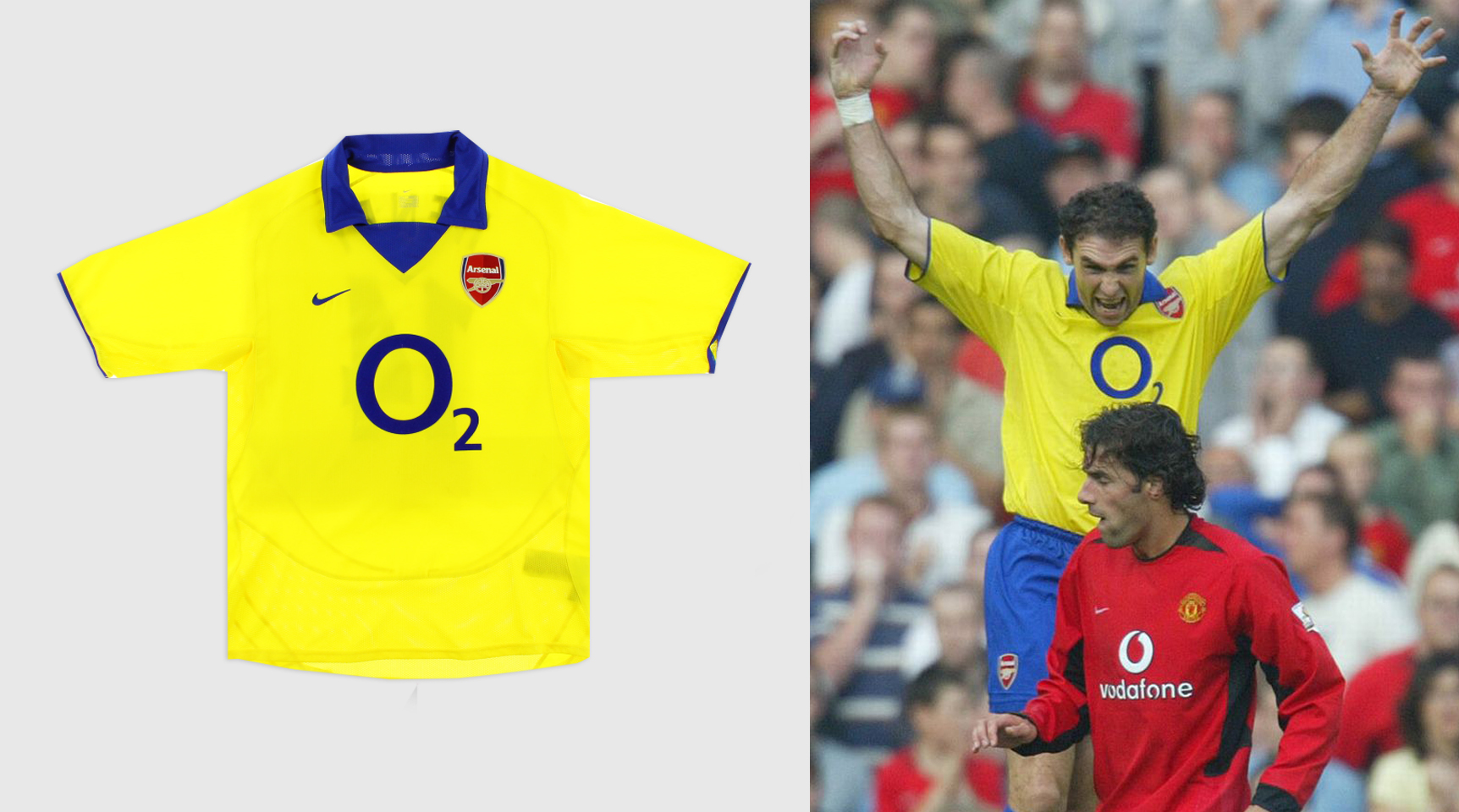 We don't need to go through every game and all the times they might have lost their unbeaten record so we'll fast-forward to the return match with their fierce rivals, presumably on Sky's Super Sunday, when Arsenal drew with Manchester United 1-1 at Highbury. This was the moment most Arsenal fans believed it could be done. With very few major away games to navigate after this point the side didn't really look like losing and Henry was in fine form, most notably hitting 4 against Leeds. Having said this, the last game of the season must have brought back a few nerves for the Arsenal fans when Dickov scored first for Leicester City at Highbury. Not to worry, Thierry Henry stepped up to convert a penalty. Who else?
Arsenal had won the title in stunning fashion. A whole season unbeaten. Some fans, notably Man United, would say the Invincible season was not as good an achievement as winning a Double or Treble, however, you have to remember that no other English team since Preston North End in 1988-89 - they played a 22 game season not 38 - have achieved this. Going unbeaten or winning The Treble? We think both are pretty special.
The Shirts Worn In The Arsenal's 2003-04 Invincible Season

Nike were kit manufacturers in the 2003-04 season and in similar fashion to previous seasons the side wore the same home shirt as in 2002-03. A two year kit just seems so alien to us all now, but it was the norm in the 90s and 00s. The Arsenal home kit may have faded into obscurity if it was only based on the previous season, but it got a second chance and it certainly elevated it to legendary status. This was the first kit to have the O2 sponsor on the front after moving away from legendary sponsor JVC and SEGA. The perfect red tone with traditional Arsenal white sleeves worked perfectly with the thin stripes on the sides and thin white collar gave it perfect accents.The players looked good in it and we think that counts for a lot.
Similarly to the home kit the away kit from 2002-03 made a few appearances in the 2003-04 season, but this time it was dubbed the third shirt. The side panels were solid blue with an ombre effect middle panel using blue and white. It's a great shirt, even though a few shirt enthusiasts might say it was Nike at it's template best. What was new this season was a yellow away kit. The new kit was safe in design, which isn't always bad, with most of the kit bright yellow. The contrast of this vibrant colour against the blue of the collar, cuffs and O2 sponsor work perfectly. We're fans of this kit and not just because of that battle at Old Trafford.
Let us know what you think about these designs on social media, don't forget to give us a follow. And remember to take a closer look at all our current Arsenal kits.
Latest from VFS blog
Unless you've been living under a rock for over a decade you'll know that Manchester...
Club Almirante Brown may have gone under the football shirt fanatics radar until now, however...
Manchester United have worn some great kits in the Premier League era. The Red Devils are probably one...
We recently posted on Social Media about one of the greatest goalkeeper kits of all-time, Nike&rsquo...
Liverpool have stepped out at Anfield in some great kits over the years. Having been manufactured by...
Probably the most famous season in the recent history of Newcastle United was in the mid-...