My Match Worn Collection: Republic of Ireland
(Posted on 09/04/21)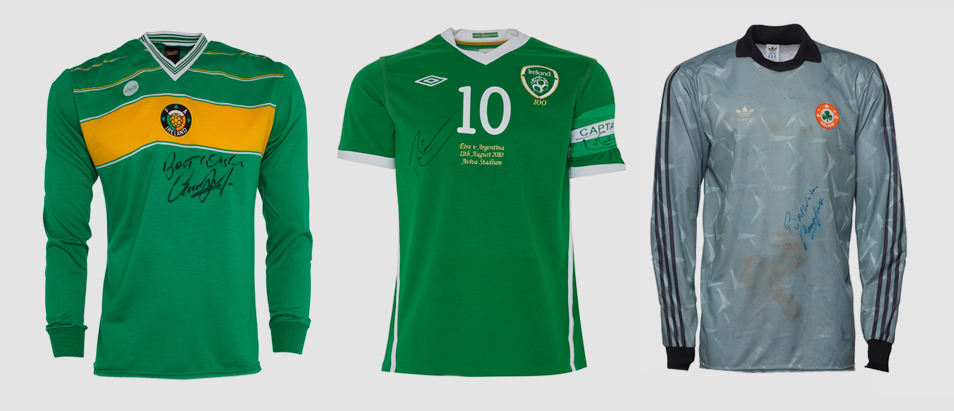 We asked match worn Republic of Ireland shirt collector Eddie to show off his best shirts and tell us how he founded the Irish Football Museum.
My not for profit Irish football museum called
Irelandsoccershirts.com
was founded in 2002. Currently there are 270 unique exhibits in the archive with 225 of them being Irish matchworn football shirts. The collection also includes tracksuits, footballs, goalkeeper gloves, international caps and official Irish player tournament suits from the 6 major finals they have appeared at in Euro 1988, World Cup 1990, Euro 1992, World Cup 2002, Euro 2012 and Euro 2016.
As a small boy growing up in Dublin I had a poster of Liam Brady on my wall in his O Neills Irish kit, he was my idol. Replica shirts were only starting to become available commercially to the public around this time and in 1983 aged 5 my mother bought me the full Irish kit Brady was wearing. I was hooked! From then on I owned every Irish kit that was released and my childhood was shaped by Ray Houghton's goal against England at Euro '88. In 2002, I travelled to the World Cup in Japan and Korea as a fan and after the Irish team drew with Germany I was fortunate enough to be in the Irish teams hotel as the team celebrated with Irish fans. Steven Reid the Irish midfielder gave me his Ireland shirt and when I returned home I tried to donate it to the Irish Football Museum but I was suprised to hear there wasn't one. This triggered me to form one with the intention of trying to preserve and display as much of our international teams history by the Centenary of the FAI in 2021.
In 2012 a young Irish fan called James Nolan tragically passed away in Poland whilst supporting Ireland at Euro 2012. I decided to dedicate the museum project to James' memory to keep his name alive and associated with the team he loved to support. The "James Nolan Collection" now in its archive has nearly one example of every Irish international shirt worn since 1921. In 2021 to coincide with the Centenary of the Football Association of Ireland I am releasing a book on the history of the Republic of Ireland football kit history from 1921-2021 called "Green, White & Orange".
As I couldn't show all my shirts here are my Top 5 Irish kits which is a bit like asking you to pick your favourite child but here we go:
Richard Dunne: Ireland Match Worn vs Russia in 2011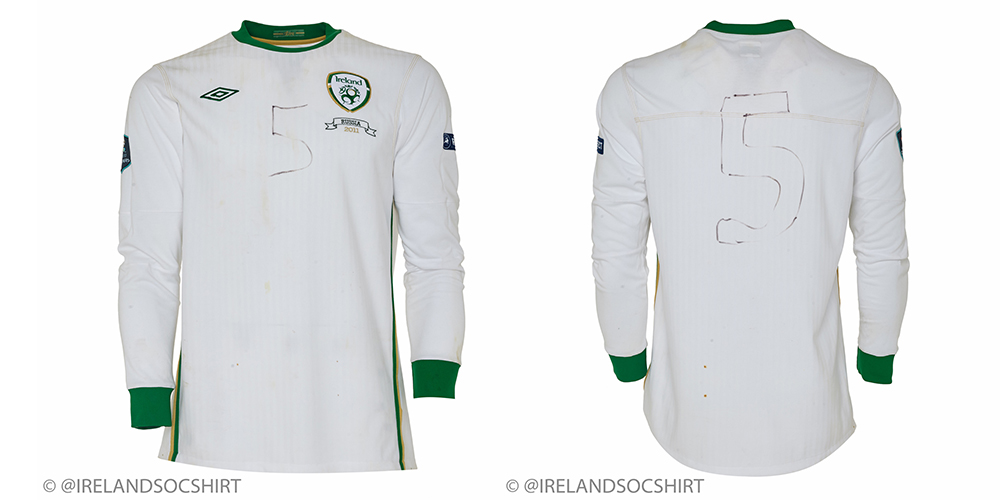 The most iconic football shirt in our history. Created live on the pitch, written in marker, covered in blood from one of the greatest individual displays ever by an Irish player. On this night Dunne's performance was heroic with Ireland keeping a clean sheet in a 0-0 draw at the Luzhniki Stadium in Moscow, this was the Irish team's first ever point in Moscow and we managed to go on to qualify for Euro 2012 through the playoffs.
Ray Houghton: Ireland Match Worn vs England in 1988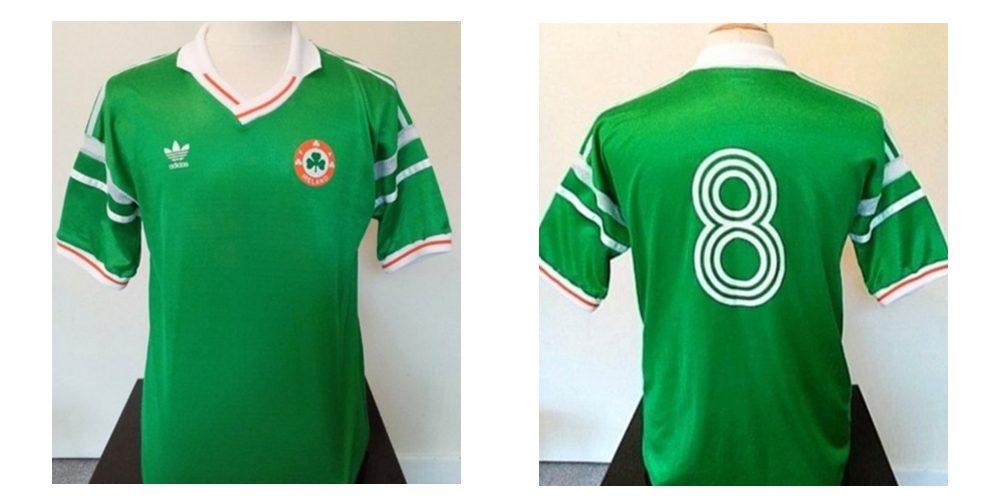 We all remember this game right? If not you've heard about it. This shirt was worn by Ray Houghton at Euro 88 when he scored the first ever goal by an Irish player at a major finals, which also happened to be one of the most famous wins. England were big favourites for the match and nobody expected Ireland to go 1-0 up after 6 minutes in the Neckarstadion, Stuttgart. The score remained the same at the full-time whistle to earn the maximum 2 points.
Houghton recalled that this was an unexpected victory, "Nobody gave us a prayer. I don't think anybody in Ireland gave us a prayer. We were certainly the underdogs by a long way, but it was a case of making sure you went out there and did your job."
Packie Bonner: Ireland Match Worn vs Romania in 1990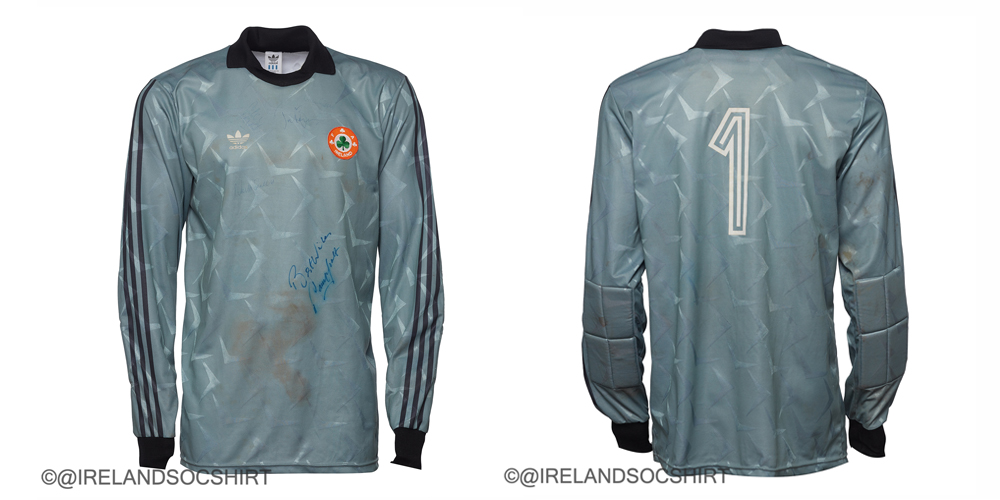 The greatest moment in Irish sporting history was at World Cup Italia 90 when Packie Bonner saved a penalty from Timofte in Genoa and David O Leary's scored the winning penalty as Ireland went to the 1/4 finals of the World Cup for the first and only time in our history. This beautiful goalkeepers shirt was only ever worn by the Irish team in this game so the moment is part of our national psyche here in Ireland now.
Packie Bonner on that moment and that it was bigger than football, "It really wouldn't be an exaggeration to say that that one save changed my life forever, certainly in terms of recognition. It's lovely, although sometimes you do feel like saying, 'I did make some other saves, you know!' "But I do feel very fortunate because one thing that whole World Cup experience achieved, which was unique and very special, was to bring everyone in the country together.'
Gerry Daly: Ireland Match Worn vs Norway in 1985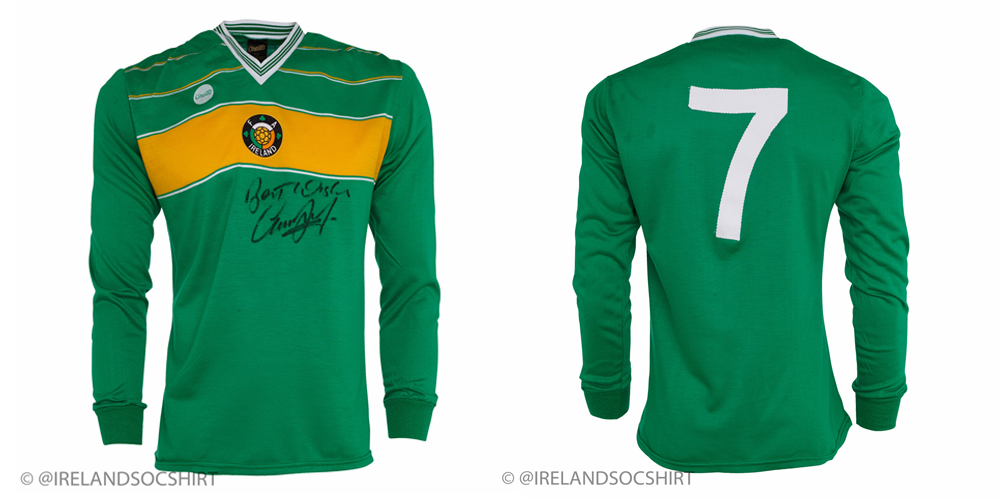 A piece of our lost football history. An incredible shirt worn by Ireland only once in this game vs Norway in 1985. The Irish TV station RTE was on strike so the game was not shown live in Ireland, many people do not even know this shirt exists never mind was worn so it's great to have one in my collection. This was worn towards the end of Gerry Daly's 13 year career in the Ireland squad.
Robbie Keane: Ireland Match Worn vs Argentina in 2010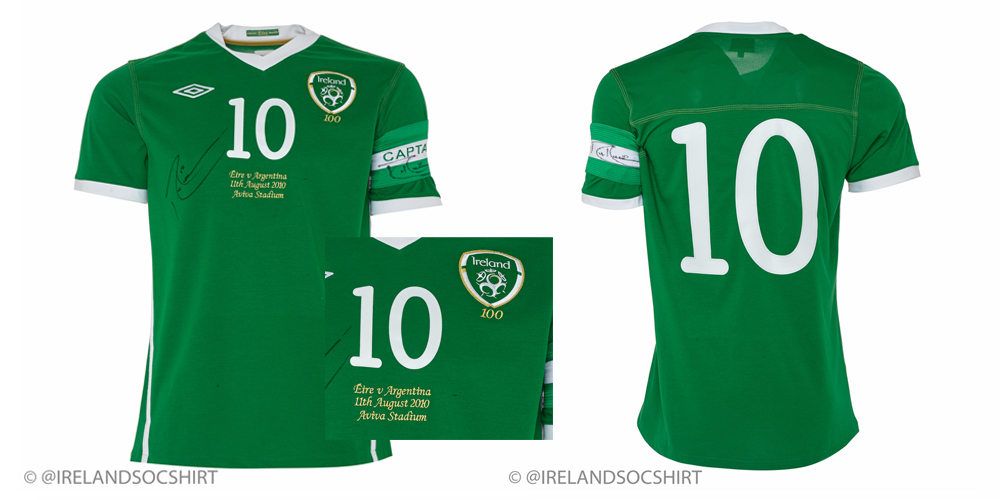 What can I say about Robbie Keane? Ireland's captain, most capped player and highest ever goal scorer just about does it. This Ireland home shirt was worn on the occasion of his 100th international cap which was also the first ever game at the new Aviva Stadium in Dublin. When I picked it up I was so happy to see it came with his captain's armband from the game, a truly incredible shirt from a genuine football legend.
#COYBIG
Written by Eddie
Latest from VFS blog
Photography has always been a passion as far back as I can remember. I took my photography O-Level back...
Club Almirante Brown may have gone under the football shirt fanatics radar until now, however...
When people think of a Derby County kits, their first thought is a white shirt and black shorts...
When you think of Inter Milan you think of both great football players and stunning soccer...
Have you ever sat in the wrong end and tried not to celebrate a goal?When we were looking at vintage...
England have had some great kits over the years and whether it be Nike, Umbro or Admiral...