My Favourite Watford FC Football Kits
(Posted on 14/07/21)
Ah, Watford FC. To the outsider it's that confusing club that sacks a manager every two months (not true), owns no players other than Troy Deeney (also not true) and is nicknamed the Hornets despite having a moose on their badge (true, though it's a hart [a male red deer], not a moose).
Being one of the few teams in the football league that plays in predominantly yellow means Watford's kit is instantly recognisable. Though that's not always been the case. One of our very first kits in the late 1890's and early 1900's was a bizarre red, yellow and green combination. As an opposition fan you would have been forgiven for thinking you were playing against the Lithuanian national team (if you know your flags). Through the First World War we changed to a black and white stripped number, the template for which was used as our away kit for the 2014/15 season to mark the centenary anniversary of the war. Black and white became solid turquoise in the 1920's until 1938, where we made the switch to a solid blue.
The blue lasted just over 20 years, when in 1959 Watford's whole identity completely changed. The blue kit was swapped for gold and black and, following a vote from the supporters, the nickname of the club was also changed from 'The Blues' to 'The Hornets'.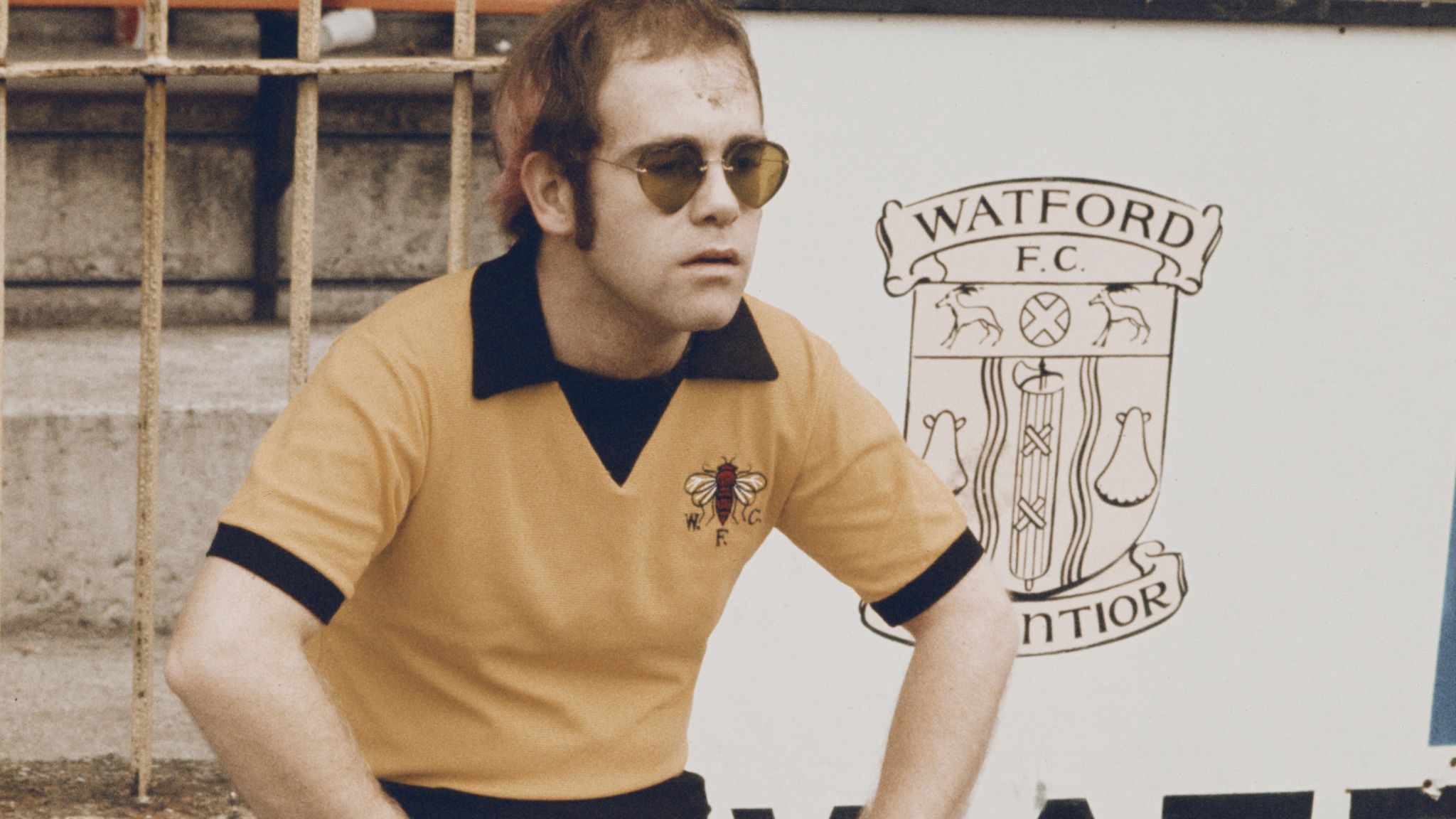 In 1976 Sir Elton John became the chairman and the gold kit evolved into the yellow, black and red which you and I know today.
There is certainly much less red in the kits seen in recent years, but one debate that rages on within the Watford fanbase is whether the club should wear black or red shorts. You may think I'm being silly, but I can assure you it's a debate that inevitably crops up yearly when the new kit is released. If you're a Watford fan you cannot sit on the fence, pick your side and fight to the death if you have to (well, maybe don't go that far, it is just a pair of shorts). I sit firmly in the black shorts camp. Red shorts for me just don't sit with 'The Hornets' nickname or vibe, though people in the red shorts camp will always say they provide us with more success as they were worn throughout the Graham Taylor years in the late 70's and early 80's.+
I find that there is a direct correlation between the beauty of the kit and the success of the team that season. You could have a kit designed by Michelangelo (though this would be difficult as he died in 1564), but if you get relegated then somehow that kit just doesn't look as glamourous and sticks in your mind for all the wrong reasons. With all this and Watford's colourful kit history in mind, here are my personal top five favourite kits:
Watford 1968-71 Home Kit

This one is quite a bit before my time, but just because I wasn't around doesn't mean I can't appreciate it. This was the first kit in the club's history to have a hornet on the shirt. A simple long-sleeved jumper with the Watford hornet sewn in, beautiful. Less is more, as they say. Watford were in the lower divisions for much of the pre-Taylor years, but this kit did witness one promotion from the third to second division in 68/69. It's finest outing undoubtedly was when second division Watford toppled Bill Shankly's Liverpool in the FA Cup Quarter Final in 69/70 to reach the club's first ever Semi-Final. It also made history, as Watford and Manchester United played out the first ever FA Cup third and fourth place playoff that same season.
Watford 1982-85 Home Kit by Umbro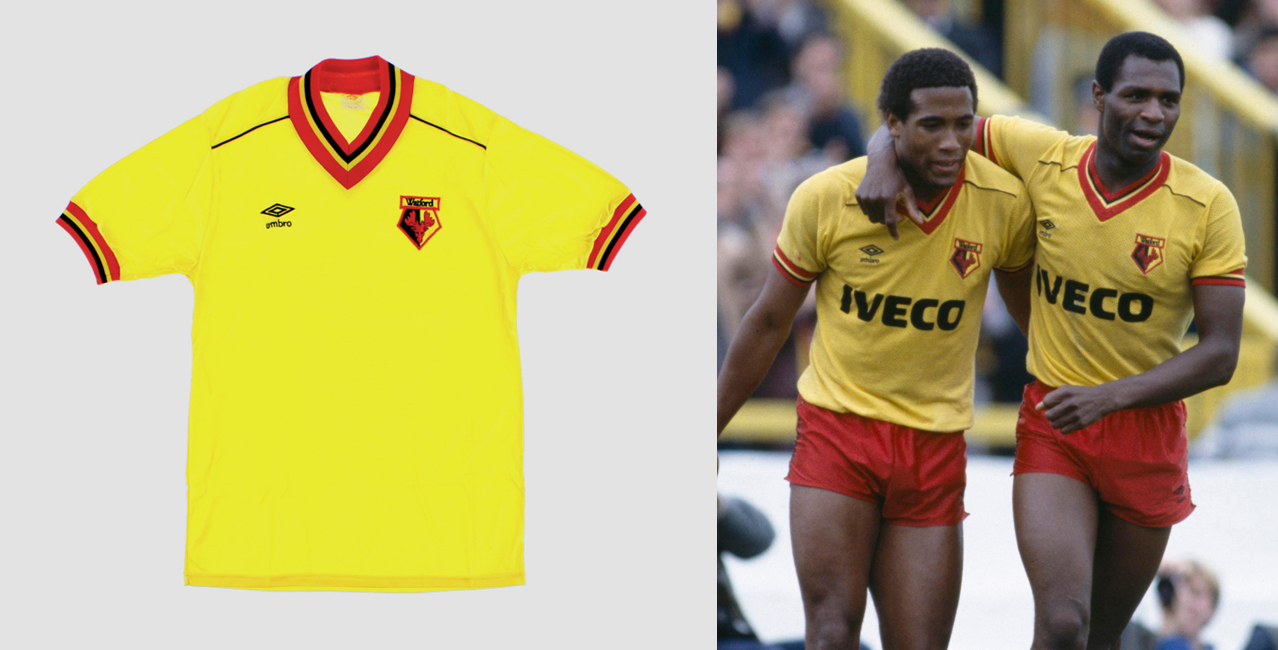 This is the iconic Watford kit, synonymous with the success under Graham Taylor. This kit saw multiple promotions, the club's highest ever finish in 1983, the club's only spell in Europe in 1984 and the club's first ever FA Cup Final the same season. Players such as John Barnes and Luther Blissett wore this kit, which certainly makes it Watford's most famous. I love the simplicity of it, with the subtle additions of red round the collar and on the sleeves. This was also the club's first kit with a shirt sponsor on it. Unlike nowadays where the sponsor can sometimes overshadow and ruin a shirt, the cleanliness of it all makes for a lovely finish.
Watford 1997-98 Away Kit by Mizuno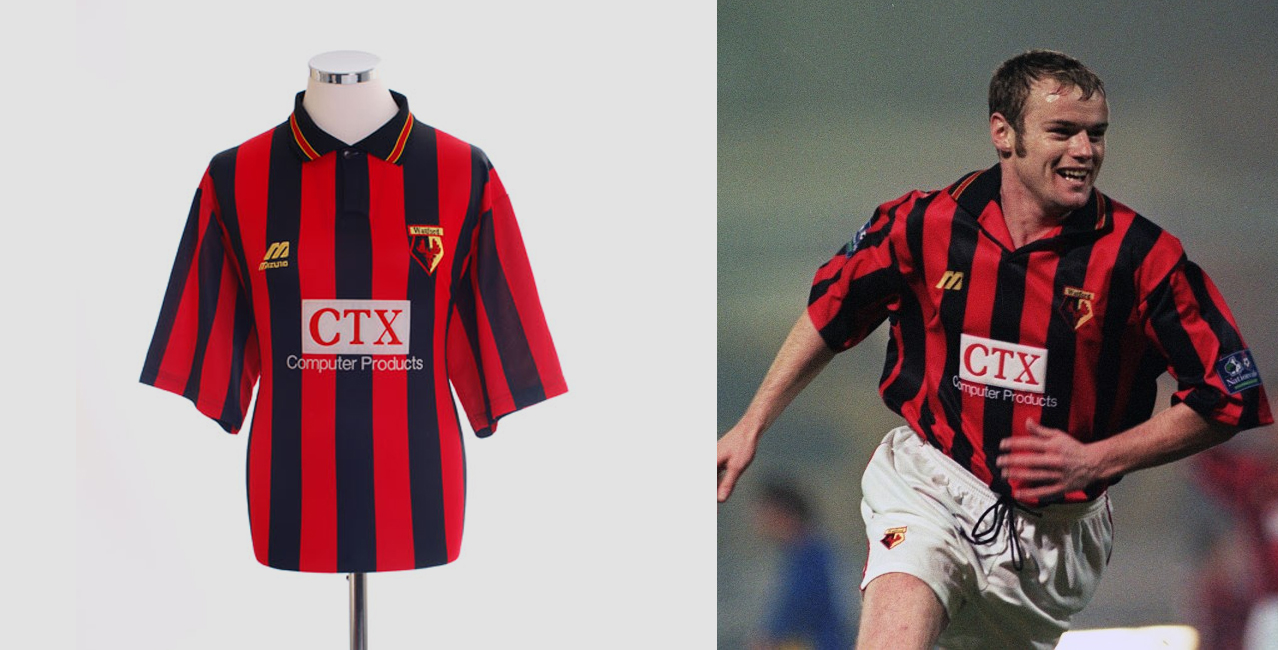 Watford's away kits have always been a bit different and 'out there', this one however is simpler in design compared to others, but the bold colours would look dominating when on the pitch. Immediately when you see the stripes of red and black on a football shirt you think of AC Milan. A combination that commands respect from your opponents. The collar adds to the design, making it a smart, elegant look. This kit saw the return of Graham Taylor as he led the Hornets to promotion from the Third Division, finishing the season as champions and thumping local rivals Luton Town 4-0 on their own patch whilst wearing this kit, with all four goals coming inside the first half.
Watford 2012-13 Away Kit by Puma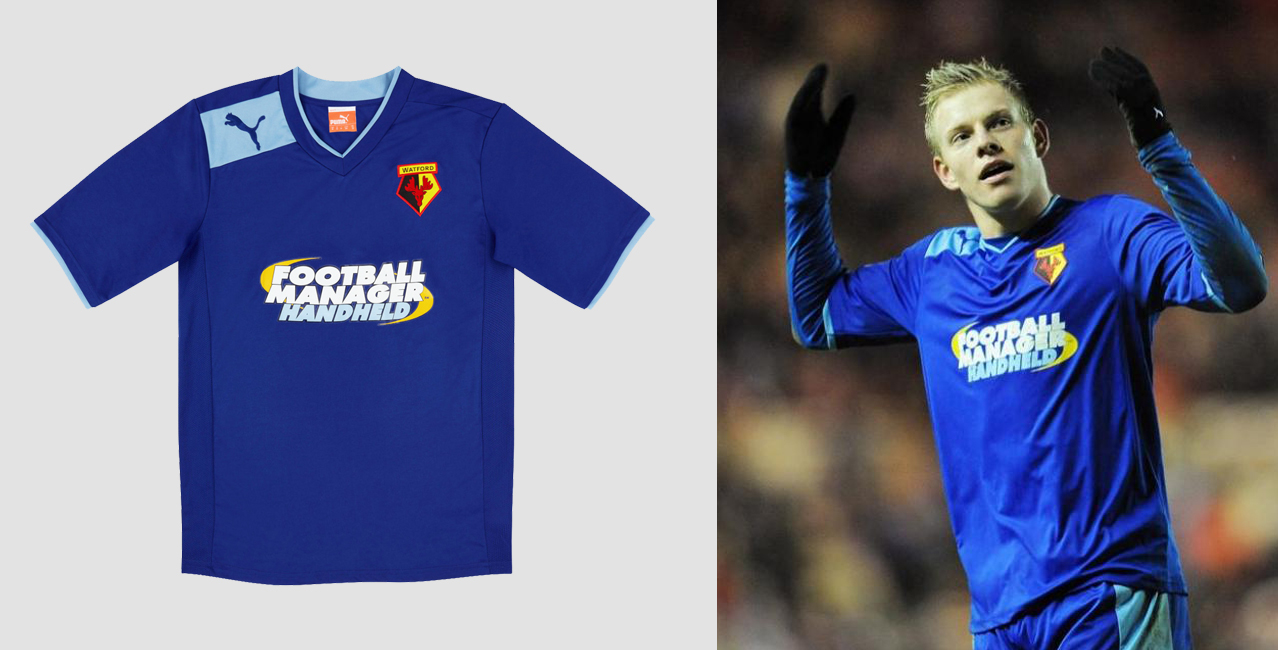 Blue, on blue, on blue and isn't it a beauty? This is probably my favourite Watford kit of all time, due to the combination of blues. Why make a kit consisting of two differing shades of the same colour. Well, why not? This kit marks a turning point in Watford's history, as it was the first away kit under the Pozzo ownership and the first to be manufactured by Puma, but it could have looked a lot different. At the start of the 2012/13 season, Watford announced their new club kit sponsor was going to the The Happy Egg Company. The home shirt was unveiled and the sponsor's logo would even feature a QR code, to take you to Happy Egg's website. However just weeks later the Pozzo family bought Watford and removed The Happy Egg Company as sponsors and replaced them with Football Manager. Gianfranco Zola was brought in as the Head Coach and thus began one of the most exciting seasons in Watford's history. Fondly remembered as the 'Zolacoaster', the season saw some of the most flamboyant football ever played at Vicarage Road. Whilst the season ultimately ended in failure with defeat to Crystal Palace in the Playoff Final, it's fondly remembered for some of the results and performances along the way.
Watford 2018-19 Home Kit by Adidas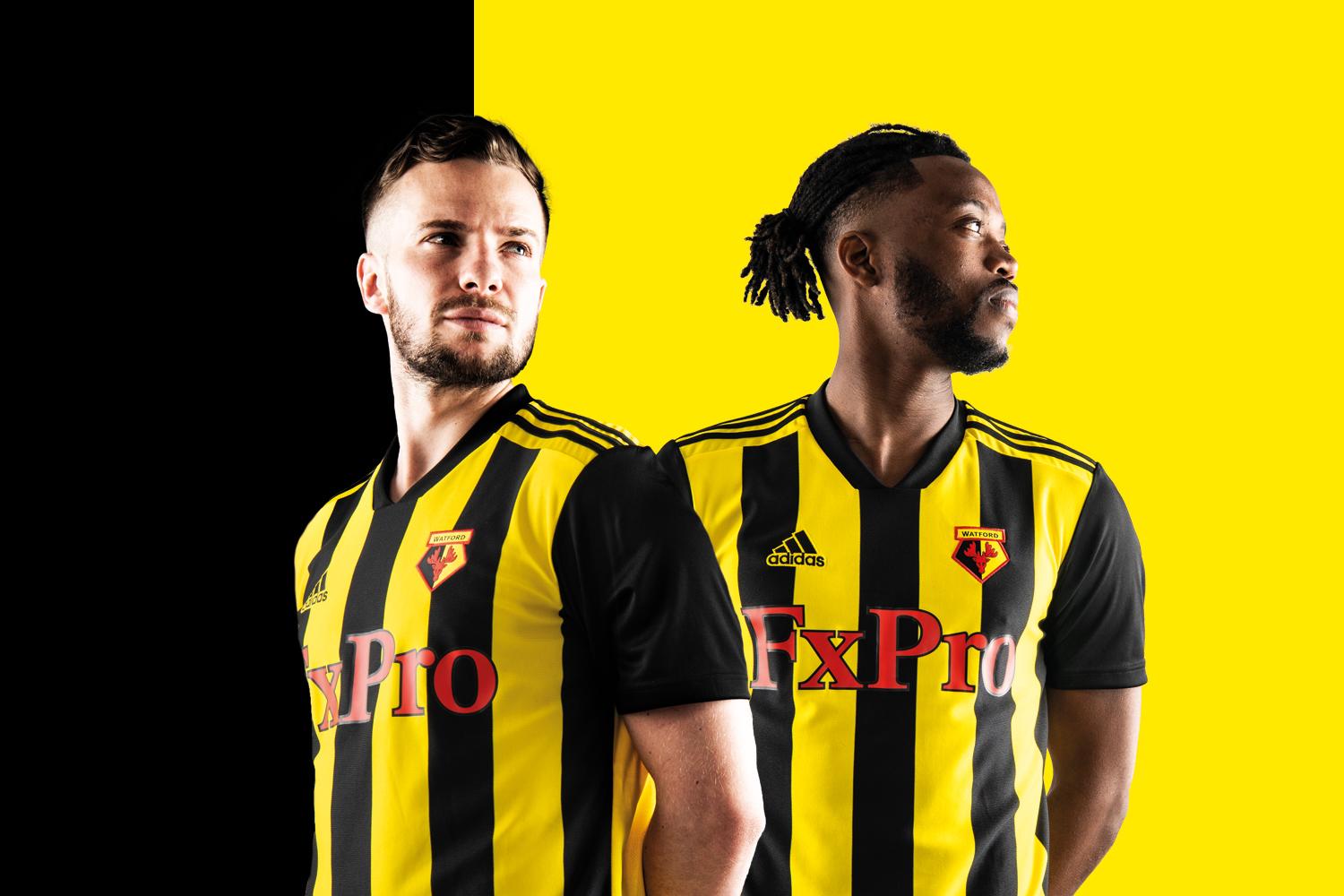 Watford have never been confined to a set shirt template each season. We're not known for having hoops, stripes, quadrants, nor are we particularly renowned for playing in a solid block colour. This gives Watford the chance to be versatile and unique with their home shirt templates. We've had horizontal, vertical and even diagonal lines as part of our kit designs in recent years. The striped number from 2018/19 however stands above them all. The all-black sleeves accompanied by the vertical yellow and black stripes on the front helped identify us as The Hornets, with a solid yellow back to allow squad numbers to be seen more clearly and a red sponsor to appease those fans on the wrong side of that fence (If I could get rid of the red in our kits, believe me I would). It's practically perfect. Couple the design with the fact it was worn by some of the most talented players in Watford's history, the likes of Gerard Deulofeu, Etienne Capoue, Abdoulaye Doucoure, Roberto Pereyra and Troy Deeney and the fact it was the kit in which we accumulated our highest ever Premier League points total and the one we wore as we reached only our second ever FA Cup Final, then surely it must go down as one of the most iconic kits in Watford's history.
So there you have it, my five personal favourites. The great thing about Watford's unique and sometimes whacky past kits is that if you were to ask another fan for their top five, they'd probably pick five completely different ones and they'd all be masterpieces in their own right. We're very lucky down at Watford, even if we do have a moose on our badge.
Words by The Hornets' Nest who have been waffling about Watford FC since 2013. Check out their new podcast Stairway to Seventh Podcast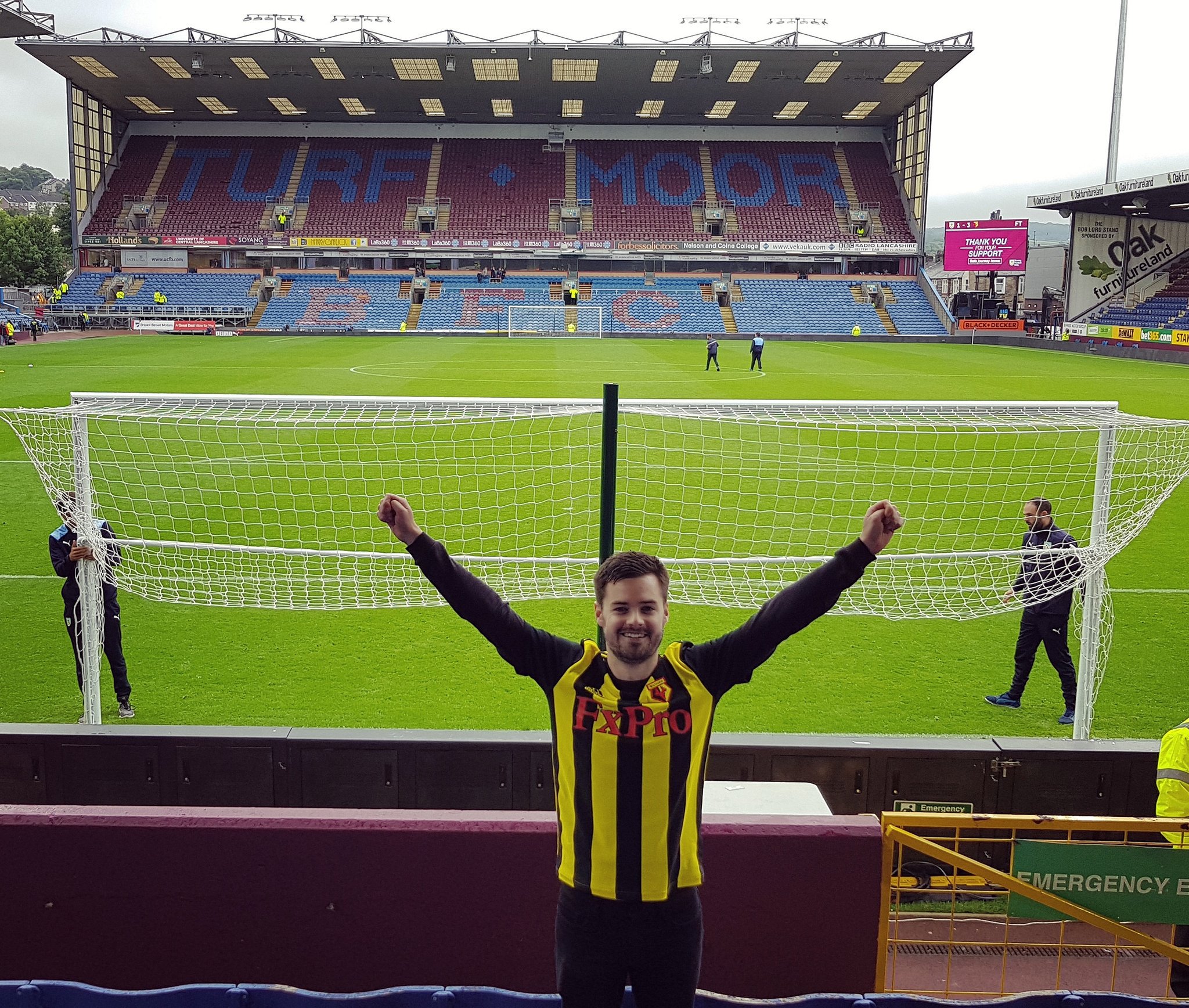 2020-21 Watford Kelme Home Shirt *BNIB*
Sale £33.00
(Approx $43 / €38)
1985-88 Watford Umbro Home Shirt M
£200.00
(Approx $260 / €230)
Latest from VFS blog
It's probably not the collaboration we were expecting when Club Tijuana and Star Wars...
With the Trinidad and Tobago home and away kits BOL Football are showing that they can produce...
Empoli F.C. are a small club from Tuscany, Italy (30km from Florence). Formed in 1920, they are...
Crewe Alexandra are my team. The club based in the town of Crewe nicknamed 'The Railwaymen...
What colour do Middlesbrough play in? Well, red of course, usually with a dash (or more) of white thrown...
International shirts are quite often rigid in colour palette, and although this can be said about the...