My Favourite Scotland Football Kits
(Posted on 22/06/21)
International shirts are quite often rigid in colour palette, and although this can be said about the main navy blue colour of Scotland's home kits, they have often added significant pattern detailing since the late 80s and it certainly isn't true for the away shirts. We've seen an array of colours and designs across away and third kits in the last few decades which makes picking my favourite Scotland kits so difficult.
Scotland Euro 1996 Home Kit by Umbro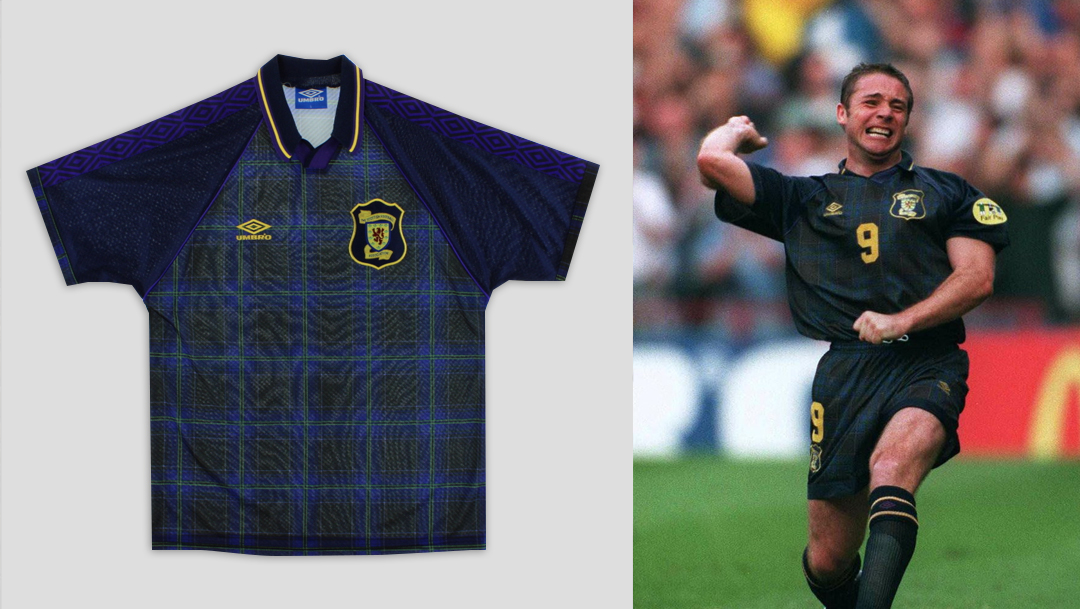 Although Scotland didn't quite make it through to the knockout phase of Euro '96 the fond memories of the tournament live on and the Umbro home kit is certainly a high point of the tournament. The Umbro design featured a tartan pattern sublimated in the material which seemed like it was perfectly made for the Tartan Army supporters travelling down to Wembley for that famous match against England. Most people, espeically the English, only remember the England game, however, if we look beyond that Scotland didn't have a bad tournament, coming away with a draw against a decent Dutch side and beating Switzerland.
Scotland 2007-08 Away Kit by Diadora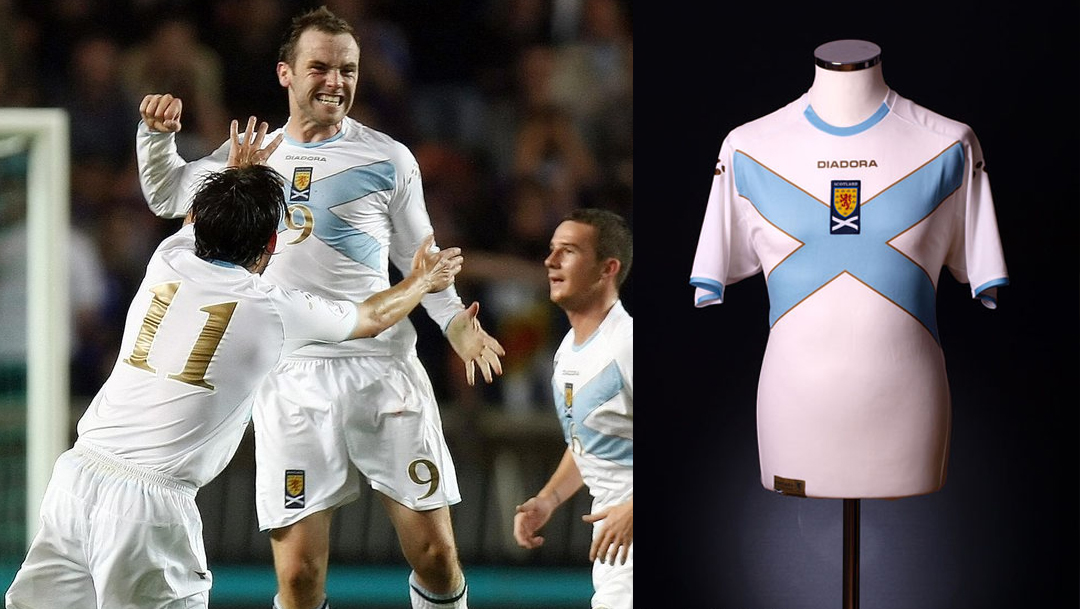 When you start choosing shirts for a best ever Scotland kits blog you think to yourself, 'don't just choose a shirt based on a memory'. I'm not sure if this is the case with the 2007-08 away kit, but you have to have it in there, and I'm sure all Scotland fans would agree with that. The design is actually a strong one with the Scotland flag represented with a Saltire cross design across the front of the shirt, but honestly, it's that James McFadden goal against France that seals it's place as one of the best Scotland shirts of all-time. Simply incredible.
Scotland World Cup 1978 Home Kit by Umbro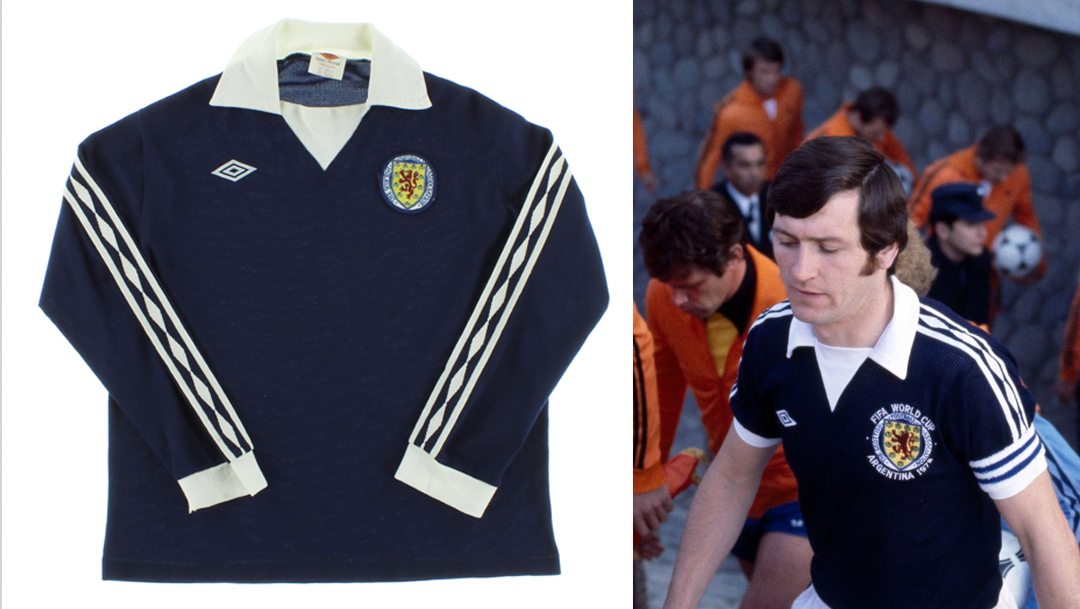 We're going back a bit for the next one. It's tough to believe for most Scotland fans now but the team selected for the 1978 World Cup in Argentina were amongst the favourites to lift the trophy. The squad had World Class players; Kenny Dalglish, Graeme Sounes, Archie Gemmill to name a few. However it started badly with the side losing to Peru and when Willie Johnston was sent home following a failed drugs test it seemed like the dream was crumbling. The side managed to pull themselves back from the early tournament problems against Holland, where we witnessed one of the greatest goals of all-time by Archie Gemmill. Unfortunately it was too little too late and they crashed out at the group stage. The kit was a classic solid navy blue Umbro Scotland home design which was elevated by great white detailing. The large white collar and small 'v' to the neck, the diamond detail running down the sleeve which was a filled in Umbro logo to be approved by FIFA regulations and the bright white embroidery around the Scotland crest brought this kit to life.
Scotland 1990-92 Leisure Kit by Umbro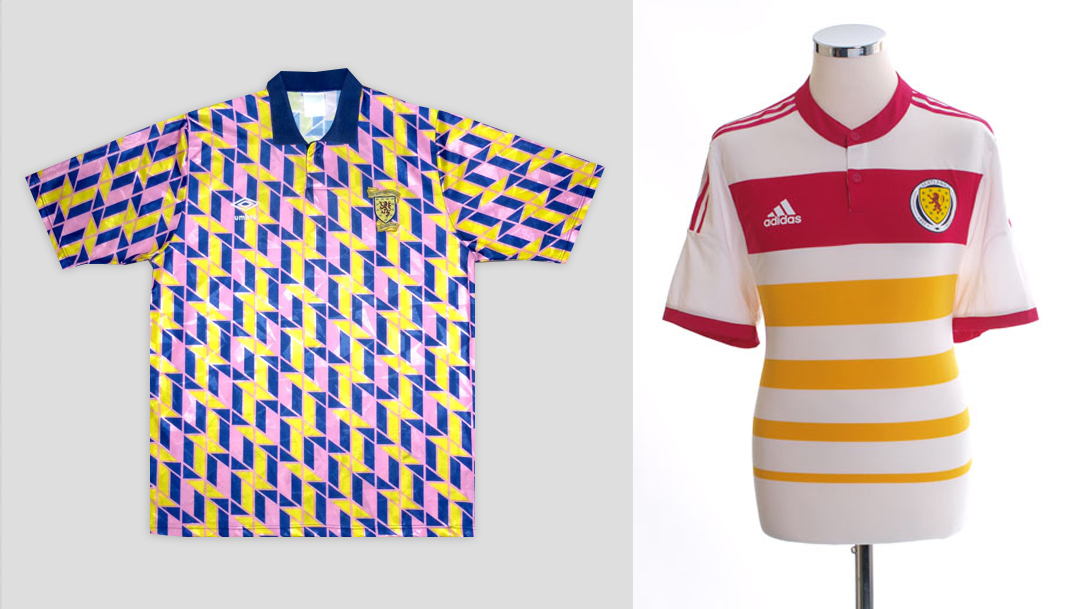 A bit of a left-field choice here given we should be talking about kits worn by the team but this Umbro 'leisure' shirt produced in the early 90s was spectacular. There were a few colours but the best of them was this pink and yellow design produced in 1990. The pink and yellow colours chosen for this bold design have been seen on a few kits over the years and were actually worn by Scotland on a number of occasions between 1881 and 1951. The official colours are Primrose and Pink, which were the racing colours of Archibald Primrose, the 5th Earl of Rosebery, who was a prominent member of the Scotish FA. It's here we can make an honorable mention to that bold away kit worn from 2014 to 2015 although it's just going to miss out.
Latest from VFS blog
It's probably not the collaboration we were expecting when Club Tijuana and Star Wars...
With the Trinidad and Tobago home and away kits BOL Football are showing that they can produce...
Empoli F.C. are a small club from Tuscany, Italy (30km from Florence). Formed in 1920, they are...
Crewe Alexandra are my team. The club based in the town of Crewe nicknamed 'The Railwaymen...
What colour do Middlesbrough play in? Well, red of course, usually with a dash (or more) of white thrown...
Ah, Watford FC. To the outsider it's that confusing club that sacks a manager every two months...