My Favourite England Football Kits
(Posted on 10/06/21)
It's that time again when everyone dusts off their favourite England shirts and gets set for a summer of eventual disappointment. While online the eternal debate of what is the best Three Lions kit rages on like it does every time a tournament swings around. On the basis, England football shirts are usually predictable; a plain white home with a red or blue away kit. However, over the years some manufacturers have broken the rules and pushed the bounderies to create some utter classics. As someone who has a special place for the 1990s it's hard not to look past some of the designs from a vintage era of kit design - especially when you combine them with some truly iconic moments. So, here then is my top five England kits of all time, almost entirely fuelled by an era when they did kits the best.....
England 1996 Goalkeeper shirt - Euro 96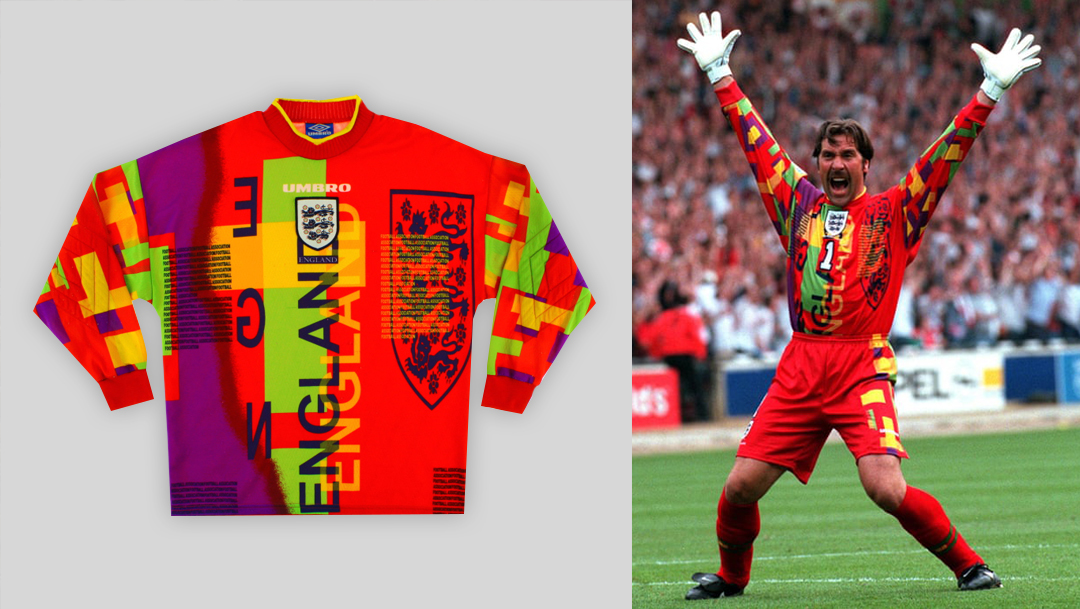 I'm a big fan of the Euro 96 shirt, it has everything I want in an England home shirt: a polo collar, an original design, and an additional colour into the pallet mix. It's a winner. However, nothing sums up the 1990s more than the famous goalkeepers away kit. Known as a the 'refreshers kit' this shirt put the multi into multi-coloured and then some, as was the sign of the times for goalkeepers' kits. Along with the various blocks of bright colours, Umbro added all the design bells and whistles they could think of to the pattern, including a huge England crest and even the word ENGLAND sprawled down the front. The splash of colour on colour continued into the shorts and even came with hooped style socks, to really hammer home the ridiculousness of the creation. I'm not ashamed to admit this was the only England goalie top I owned growing up, and probably the last full kit I've ever worn outside of a football pitch. When I paraded this ever so subtle number down Bexleyheath Broadway heads turned, let me tell you. Pity then it's 'best' remembered for the heart-breaking semi-final defeat to Germany. Not sure David Seaman was ever a fan, either.
England 1994-95 Away Shirt by Umbro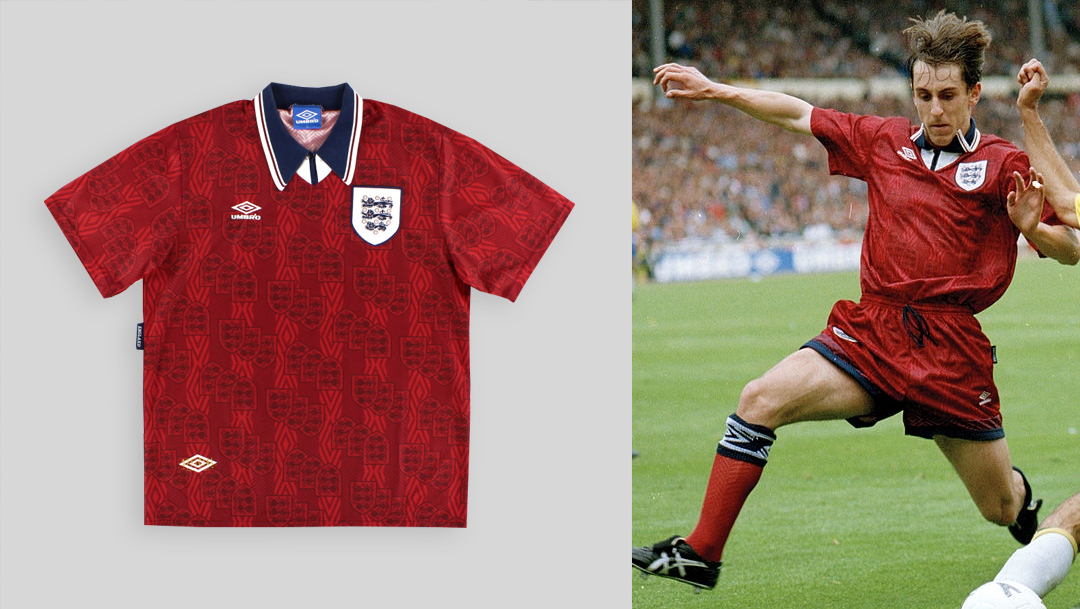 Despite the obvious legacy, red isn't my preferred choice for an England away kit. I've been enamoured by very few over the years, but mostly by this away design from 1994. Perhaps best remembered in the Graeme Le Saux household thanks to his wordly against Brazil at The Umbro Cup, this away offering was a much deeper shade of red and described at the time as 'wine red'. The polo-style collar continued from the underrated home shirt and the base pattern included a mix of trios of England crests (some even upside down) and the Umbro logo in a vertical striped pattern. First worn in a 5-0 win over Greece in May 1994, this was another shirt not actually worn at a major tournament and would be the prelude to the infamous Euro 96 away strip.
England 2010-12 Home shirt by Umbro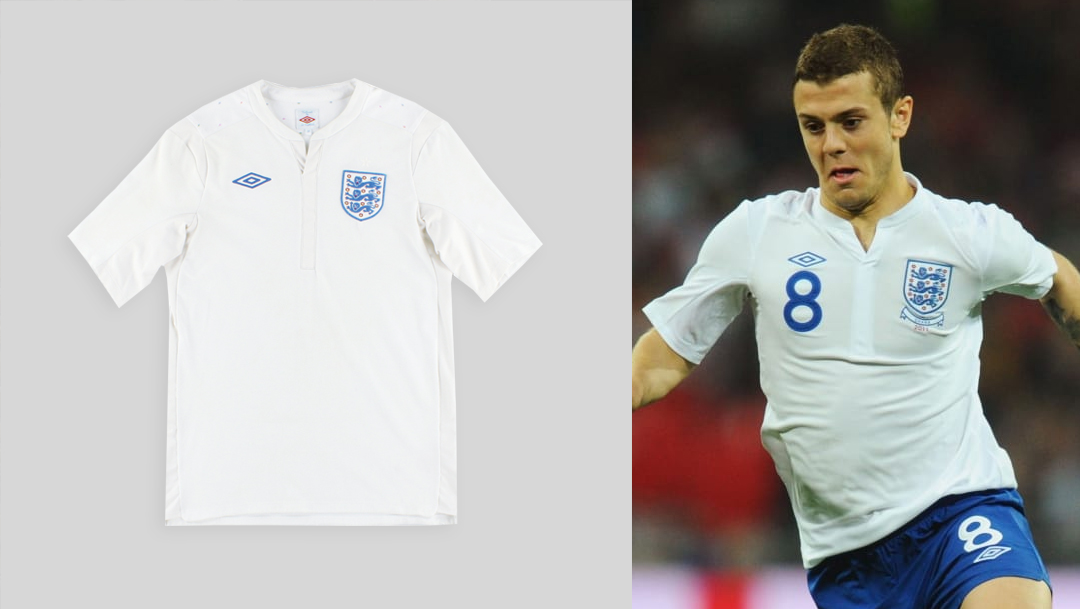 A real anomaly of an England shirt, that's probably long forgotten due to the lifespan it had on a football pitch. After the disappointments of World Cup 2010, Umbro quickly moved on from the rather uninspiring effort in South Africa and released this strip with the help of designer Peter Saville. The red adjacent colour was replaced with a delightful tone of blue not seen on an England kit previously, and one that was almost bordering on royal blue. An old-school grandad collar was introduced for the first time too, but the headline act to Umbro and Saville's combined creation was the small multi-coloured St George's cross pattern dotted on the shoulders, reflecting the 'culturally diverse modern England'. Unfortunately, this unique design was never worn at a major tournament and was unusually replaced just before Euro 2012 with another uninteresting white and red strip that was showcased at the finals.
England 1990 Home Shirt by Umbro - World Cup Italia 90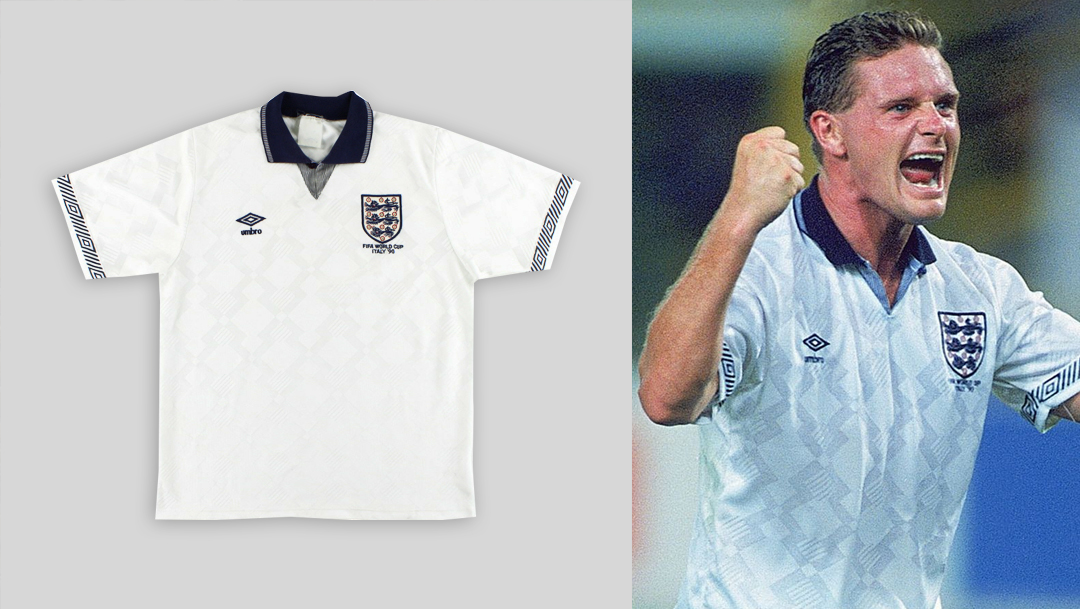 Everybody remembers their first time, right? Luckily for me the first England kit of my generation and the first one I ever owned was the iconic home kit from 1990, the Italia 90 shirt. Even without the events of The World Cup, this would remain an all-time classic from Umbro. The polo-style collar, the subtle base pattern woven into the glorious white shirt and the Umbro trimmings around the cuffs, all combine to make this design England's best home offering. Add to that the images of Gascoigne's tears, Lineker's finger gesturing and Platt's wonder goal, it's no wonder this shirt is lauded higher than any other white England kit. You can almost hear the opening bars of World In Motion just by looking at it. A genuine classic.
England 1992-93 Third Shirt by Umbro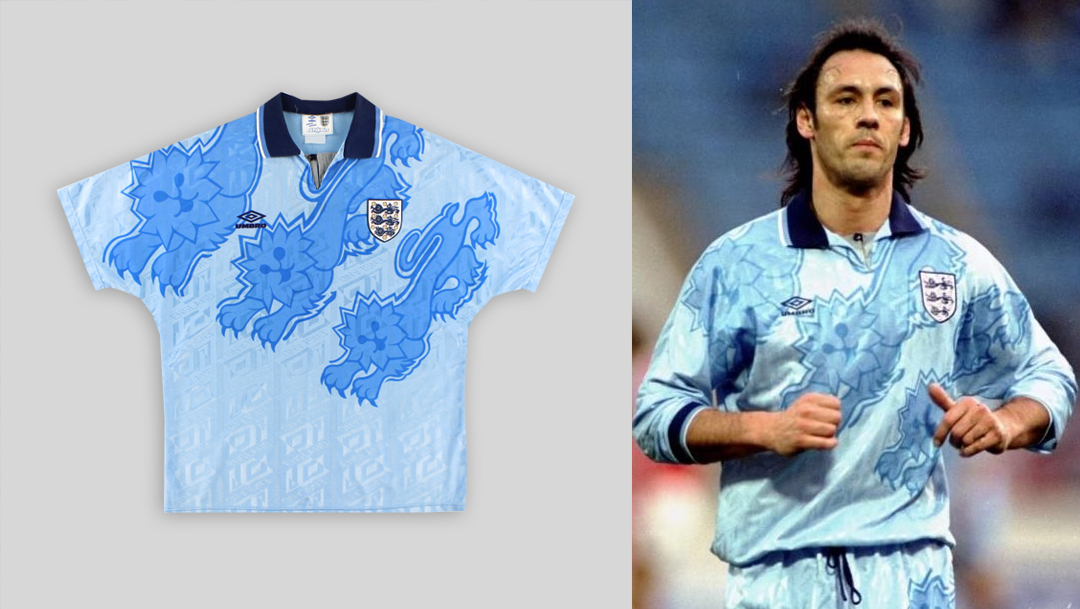 This is simply the best England kit of all time. Graduating from the popular blue third kit from the famous 1990 set - that was never actually worn in a match - came this follow-up in all its glory. The base colour was a less-fussy and more vibrant blue, with navy trimmings - including the all-important polo-style collar. The standout design feature though, is of course the image of the 3 lions plastered across the chest of the shirt. A creation completely original for the time and one that's never been repeated. I remember seeing this kit for the first time, when England played Czechoslovakia 1992 and it was love at first sight - a love that has only deepened over the years. What's often overlooked about this kit too, is the lion motif being repeated on the shorts as well, a rare example of how incorporating the shorts into the overall design can help elevate a kit even further. It was sadly worn only once more during this period, a 1-0 defeat to Spain in September '92, but it remains the standard bearer for all England kits that have followed since.
Latest from VFS blog
If you are looking for classic football shirt giveaways and competitions you've come to the right place...
Montserrat's International team are now on the football shirt collectors radar after releasing a new...
My Match Worn Collection: SampdoriaIt's funny how shirt collections sprawl isn't it? When...
Umbro shirts that were never wornWe've managed to get a delivery of classic 80s Umbro kits that were...
Photography has always been a passion as far back as I can remember. I took my photography O-Level back...
We asked match worn Republic of Ireland shirt collector Eddie to show off his best shirts...