My Favourite Derby County Kits
(Posted on 06/04/21)
When people think of a Derby County kits, their first thought is a white shirt and black shorts. However, the first ever shirt which dates back to 1884 was a pattern of brown, blue and yellow. They went through several different colours before choosing to don the black and white in 1897. Through the glory years of Sir Brian Clough in the 70's the shorts were changed to blue until 1981 when they reverted back to black shorts and this has remained until the present day. When it comes to their away kits, they have had a vast assortment of colours including blues, yellows, greens, blacks, and even burgundy. Their 1977-78 away kit was a red shirt with white shorts and red socks, this did not go down to well with the Rams faithful as it reminded them too much of their arch rivals Nottingham Forest. Needless to say, this kit or any kit similar has never been seen again. Here are my five favourite Derby County kits.
Derby County Bukta Home Kit – 1993-94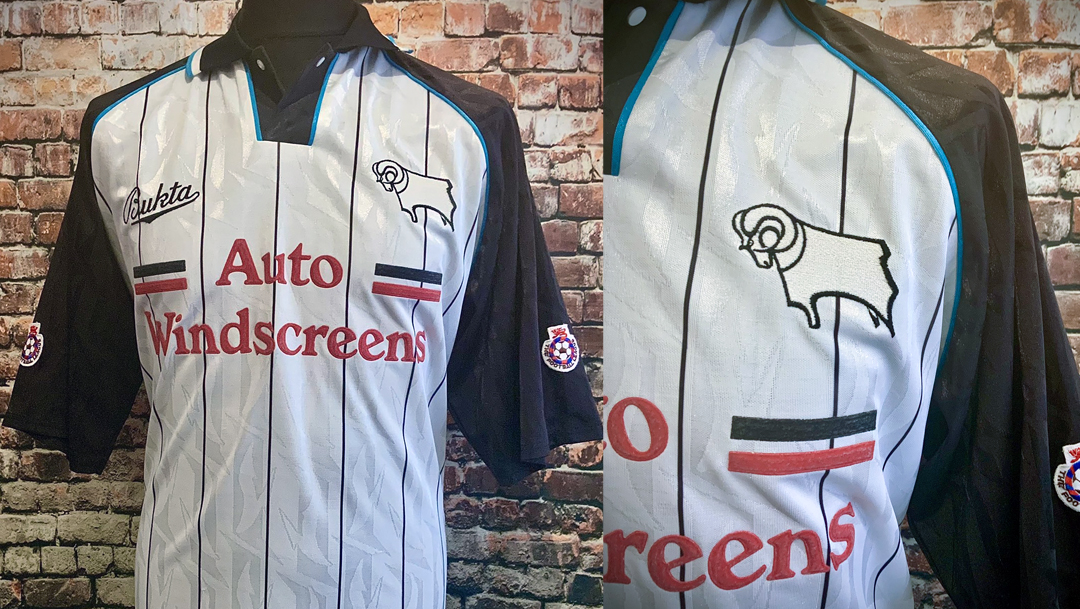 My first choice has to be the home kit from 1993/94. This was the first Derby County kit I owned. Made by Bukta, I really liked the contrast of the white shirt, with the black sleeves and black pin stripes. They also added a turquoise blue stripe on the collar and around the sleeve, this matched with the socks which were white and had the same blue and black stripes around the top of them. The season was a very good one for the Rams. After overcoming Millwall and several pitch invasions in the playoff semifinal, sadly they were beaten by rivals Leicester City at Wembley in the final 2-1, despite striker Tommy Johnson Derby an early lead.
Match worn shirt image via Phil Lowe
Derby County Puma Away Kit – 1996-97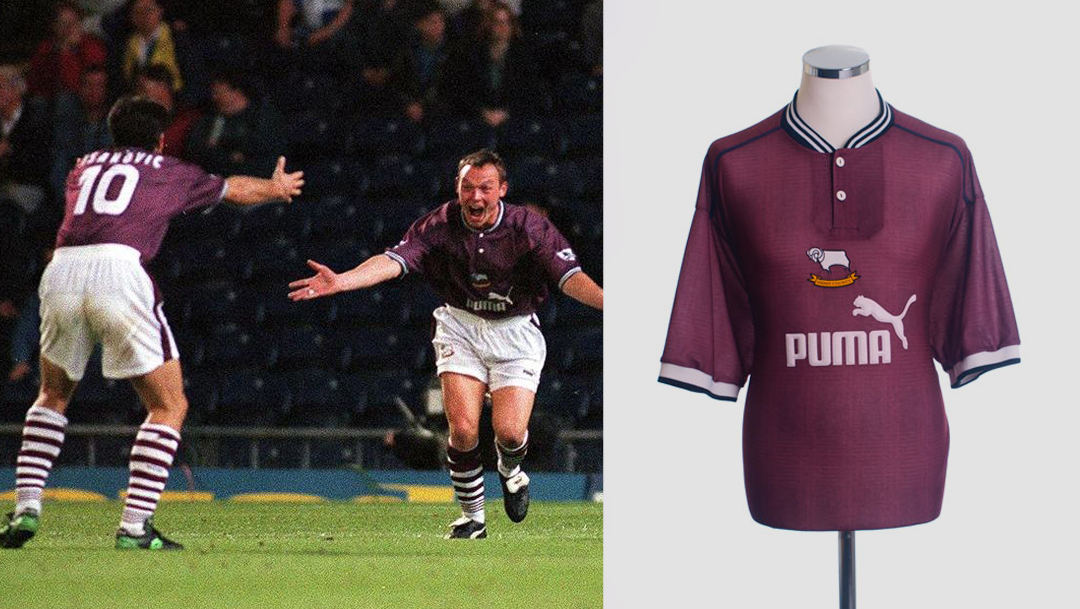 My next choice has to be the 1996/97 away kit. A burgundy shirt with black and white stripes on the edge of the sleeve and the button up collar. Match with white shorts with a burgundy stripe and white and burgundy hooped socks. The kit was made and sponsored by Puma and was a really comfortable kit to wear. This was the away kit for the first season in the Premier League. Rams legends such as Igor Stimac, Paulo Wanchope and Robin Van Der Laan all played in this kit in a season which saw the Rams finish 12th. The highlight of the season was beating Champions Manchester United 2-3 at Old Trafford.
Derby County Puma Goalkeeper Kit - 1996-97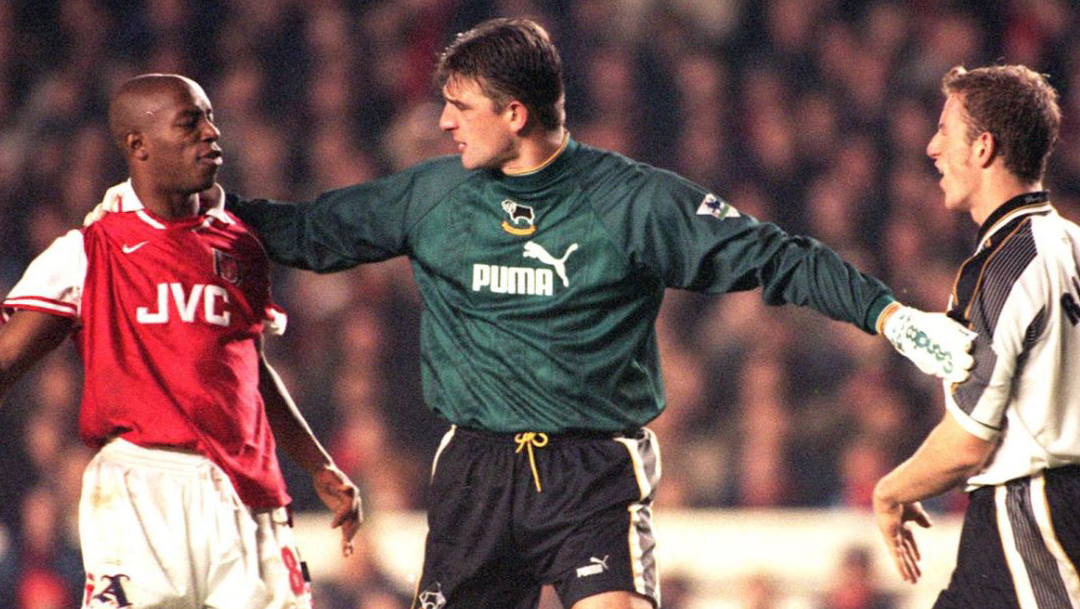 Now I could not complete a top 5 list without including a goalkeeper shirt. As a goalkeeper myself these were the shirts I would want more than a playing shirt. The 96/97 kit was an absolute beauty. Dark green shirt with a yellow and white stripe on a roll neck collar. The shirt also came with nicely padded arms to protect your forearms when diving for the ball. Puma really outdid themselves on this shirt for me, a nice simple but smart looking design with a really comfortable fit.
Derby County Umbro Third Kit - 2019-20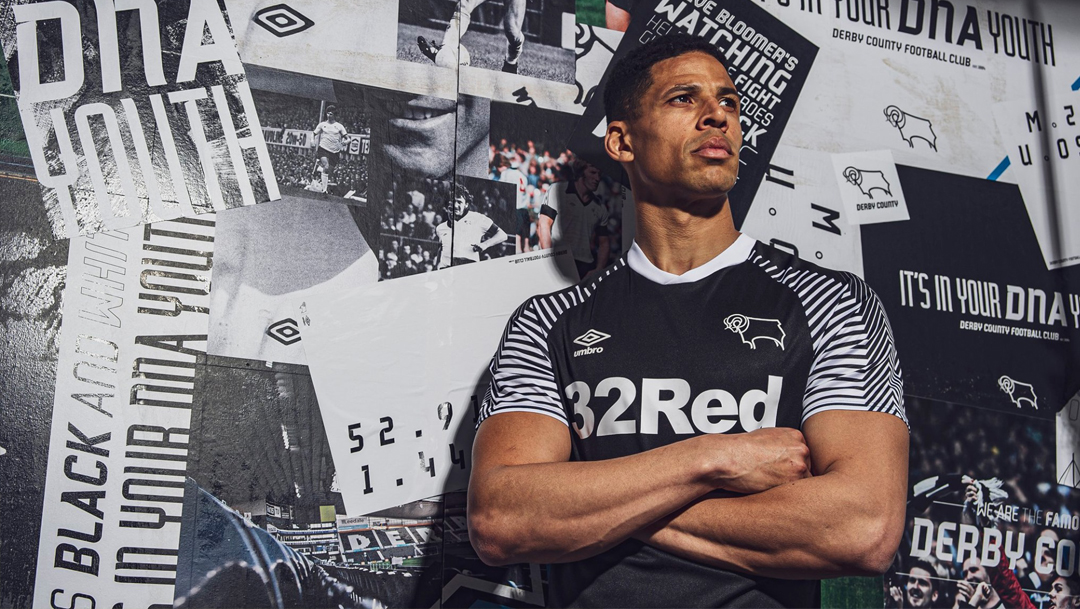 The 2019/20 third kit was made by Umbro. As with all the kits that season, they tried to bring back a 90's vibe. The stripes on the sleeves were similar to those on the 96/97 kit in which Derby won promotion. It was simplistic but very smart and went well with the plain white shorts and black socks with white tops. However, it did look even better on the rare occasion when they played in black shorts as well. The iconic thing about the kit is that England and Manchester United legend Wayne Rooney played in it.
Derby County Umbro Third Kit - 2020-21
To end with then, it has to be the 2020/21 third kit. A very pretty pink kit and an extremely one amongst Derby fans. The club delayed the release of the kit until the 1st of October and from every shirt sold, money went to Breast Cancer Now's wear it pink fundraising campaign. Not only was it for a good cause, but it looked good as well. A contrast of light and dark pink stripes with black tips on the sleeves blended well with the black shorts and pink socks. It was a good omen for Derby as they seemed to win most games when wearing this kit. Wayne Rooney scored his final career goal before becoming Ram's manager in this kit. After being outplayed for 87 minutes against Norwich at Carrow Road, Rooney slotted a 25 yard free kick in to the top corner and Derby went on to win 1-0.
Words by The Ramswriter Podcast - You can listen to the latest episode here
Take a look at all Derby County Shirts
2020-21 Derby County Umbro Home Shirt *As New*
Sale £25.00
(Approx $33 / €29)
2020-21 Derby County Umbro Away Shirt *As New*
Sale £25.00
(Approx $33 / €29)
Latest from VFS blog
Crewe Alexandra are my team. The club based in the town of Crewe nicknamed 'The Railwaymen...
What colour do Middlesbrough play in? Well, red of course, usually with a dash (or more) of white thrown...
Ah, Watford FC. To the outsider it's that confusing club that sacks a manager every two months...
International shirts are quite often rigid in colour palette, and although this can be said about the...
If you are looking for classic football shirt giveaways and competitions you've come to the right place...
It's that time again when everyone dusts off their favourite England shirts and gets set for a...