Montserrat 2021-22 home and away kits by BOL
(Posted on 26/05/21)
Montserrat's International team are now on the football shirt collectors radar after releasing a new jersey for the 2021-2022 World Cup qualifying campaign inspired by their 'Emerald Boys' nickname.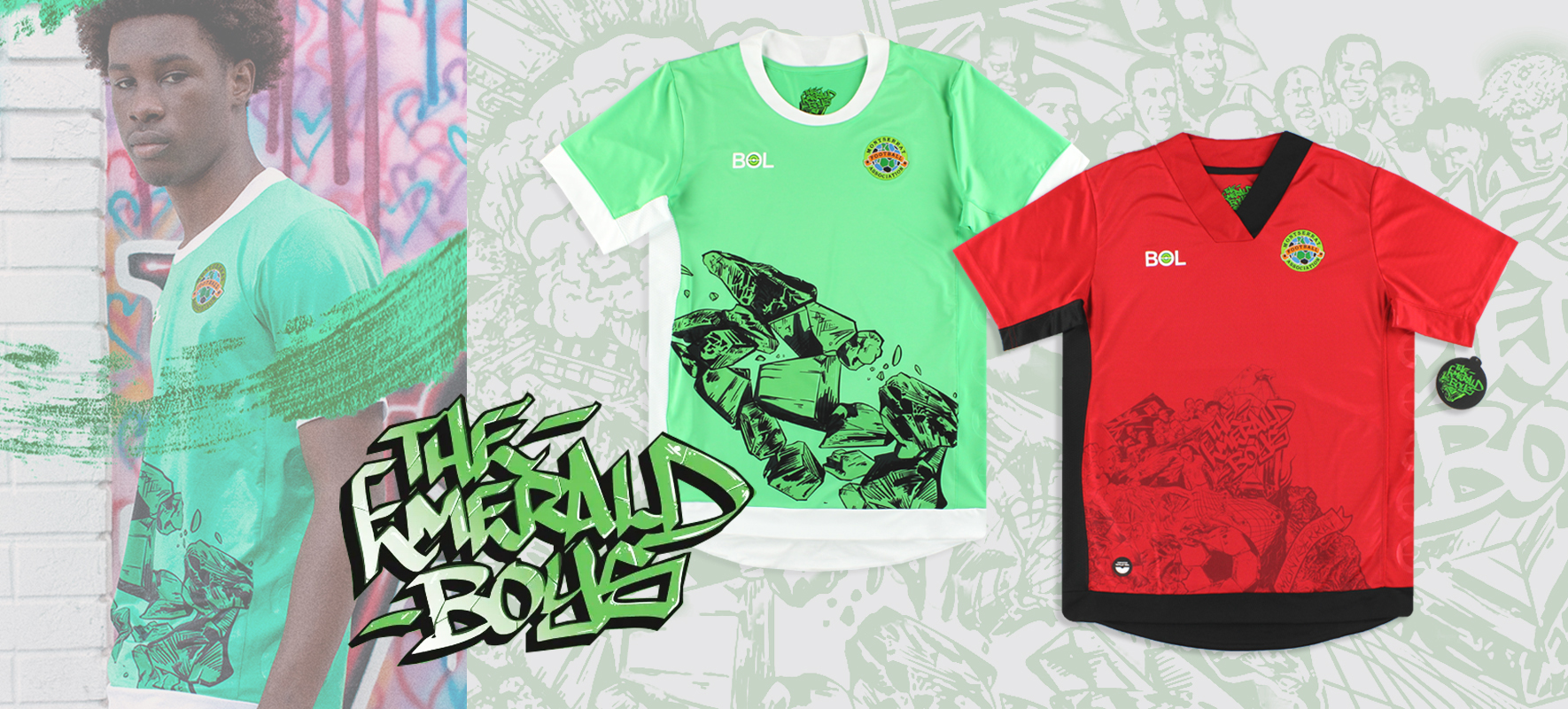 Football shirts from the small Caribbean island of Montserrat are very rare and have never been produced on a mass scale, which means they are missing from a lot of kit enthusiasts' collections. However, as always, we're here to help. We've managed to pick up some really interesting designs released for the 2021-22 World Cup Qualifying campaign.
The team have never managed to qualify for a World Cup and seldom make it to CONCACAF tournaments, however, a recent influx of players has given the small country hope of qualifying for a major tournament in the coming years. If not the World Cup 2022 in Qatar then maybe the next CONCACAF Gold Cup are realistic for this group of players.
The Miami based kit manufacturer BOL are new to the football scene and with their first kits they decided to create some eye-catching designs. Both shirts are influenced by the teams' nickname 'The Emerald Boys', which is a reference to Montserrat often being referred to as the "Emerald Isle" of the Caribbean, and the Island's love of street graffiti.
The home kit is, as you would imagine, green with emerald rocks in the bottom corner of the shirt. The white parts of the shirt are asymmetrical which gives it a very different look from the usual template kits of Nike and Adidas. The red away design has the same asymmetrical design with a definite nod to street Graffiti with a mural of the squad sublimated in the material.
These designs are now in stock and you won't find them cheaper anywhere else!
2021-22 Montserrat BOL Away Shirt *BNIB*
£50.00
(Approx $65 / €58)
2021-22 Montserrat BOL Home Shirt *BNIB*
£50.00
(Approx $65 / €58)
Latest from VFS blog
Crewe Alexandra are my team. The club based in the town of Crewe nicknamed 'The Railwaymen...
What colour do Middlesbrough play in? Well, red of course, usually with a dash (or more) of white thrown...
Ah, Watford FC. To the outsider it's that confusing club that sacks a manager every two months...
International shirts are quite often rigid in colour palette, and although this can be said about the...
If you are looking for classic football shirt giveaways and competitions you've come to the right place...
It's that time again when everyone dusts off their favourite England shirts and gets set for a...