Favourite England Kits
(Posted on 15/03/21)
England
have had some great kits over the years and whether it be Nike, Umbro or Admiral designs, each shirt brings back memories of your favourite players, World Cup and Euro moments. We asked England fan Chris Boden to pick his favourite five soccer kits.
England 1984-87 Umbro Home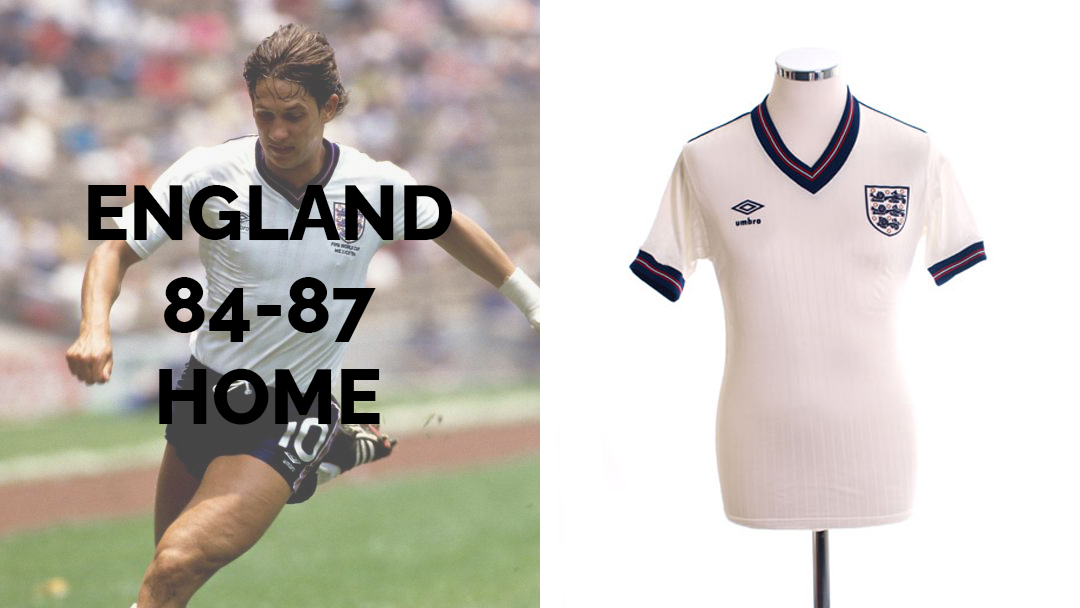 My first World Cup I can really recall was Espana '82, when I was seven, I had the Admiral home England strip, a stationary set with Keegan/Brooking/Neal etc adorning a ruler, pencil and eraser, but rather than be obvious and select this design I've chosen the first Umbro England shirt, the home shirt worn from 1984-87, which was worn in the Mexico 86 World Cup. Unfussy and tidy, but modern, with a subtle stripe in the material, I wore this to death! The design worn by the players in Mexico was slightly different to the shirt we could wear at home but I'm not sure anybody noticed at the time. If you look at the sleeves they don't have any cuffs, which I believe was because of the 34-40 °C temperatures in Mexico at the time.
England 1987-89 Umbro Third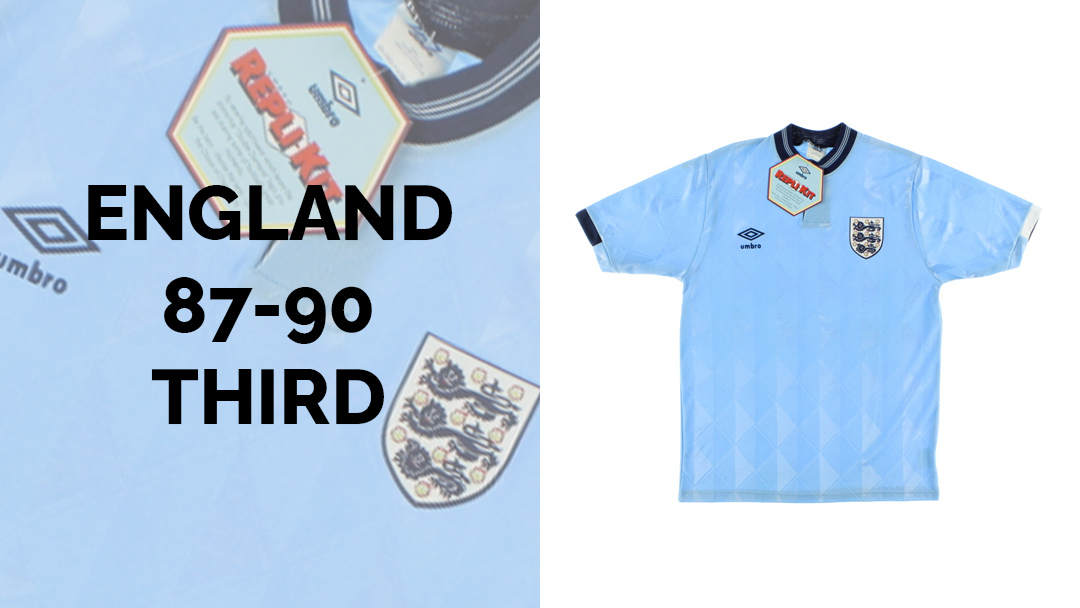 Slightly different to the 1984 shirts, but with a crew neck, fastened with a stud. There was a diamond pattern woven into the strip, while the cuffs had coloured bands at the end. I had the home shirt, but I also got, and preferred, the third shirt, which was never worn competitively, in pale blue. It's a shame it was never used, I would have loved to see the likes of John Barnes and Brian Robson in this perfect light blue design.
England 1989-91 Umbro Third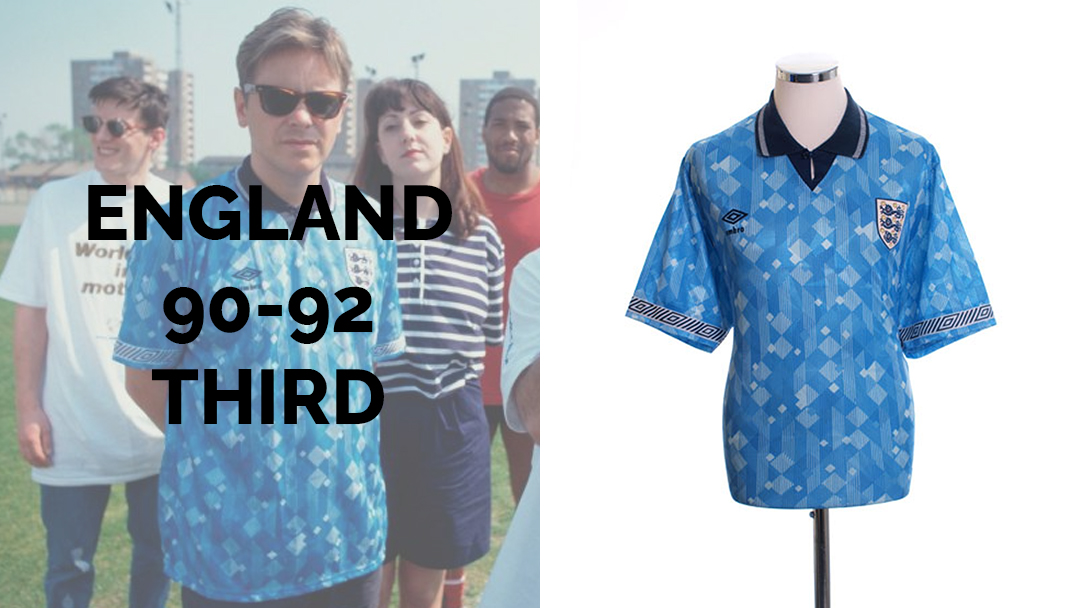 This pale blue shirt was worn once, in Turkey in 1991, and came with the same collar as the home and away shirts, but with a different diamond pattern woven in. This was my favourite mainly due to Bernard Sumner of New Order famously wearing it in the World in Motion video. I still have one, and the Palace version released around a decade ago.
England 1995-96 Umbro Home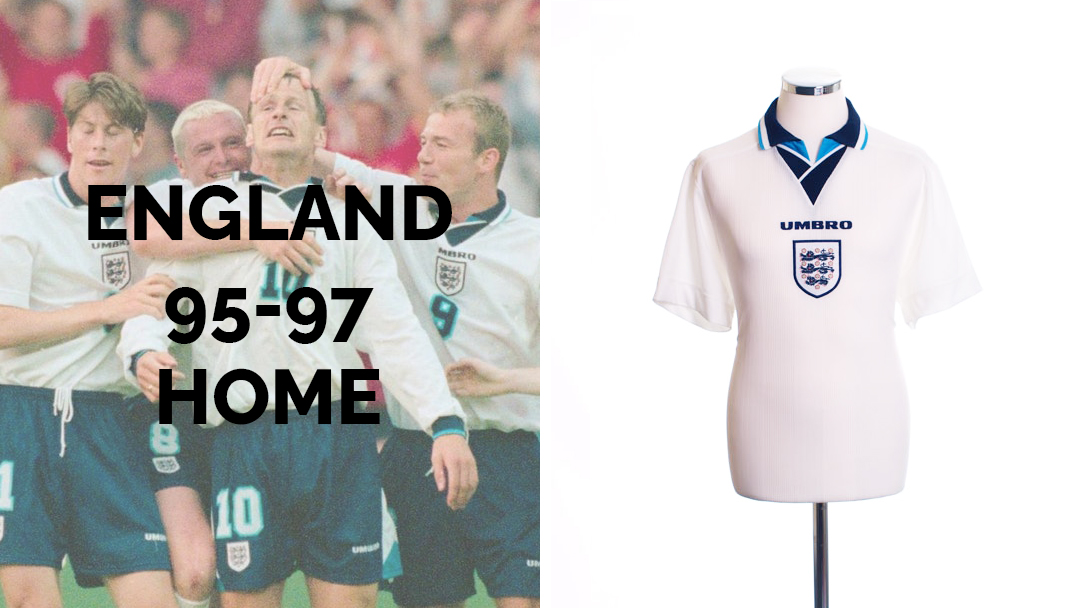 A great time, a great tournament and a good performance from Terry Venables' side, in the home shirt, which had pale blue trims as well as navy and a central national crest. Still have my original version, in XXL for some reason - I liked things baggy then! Gazza, McManaman, Teddy Sheringham, Three Lions.... so many moments and images spring to mind when I look at this Umbro design... still have a feeling we should have won the tournament!
England 2010 Umbro Away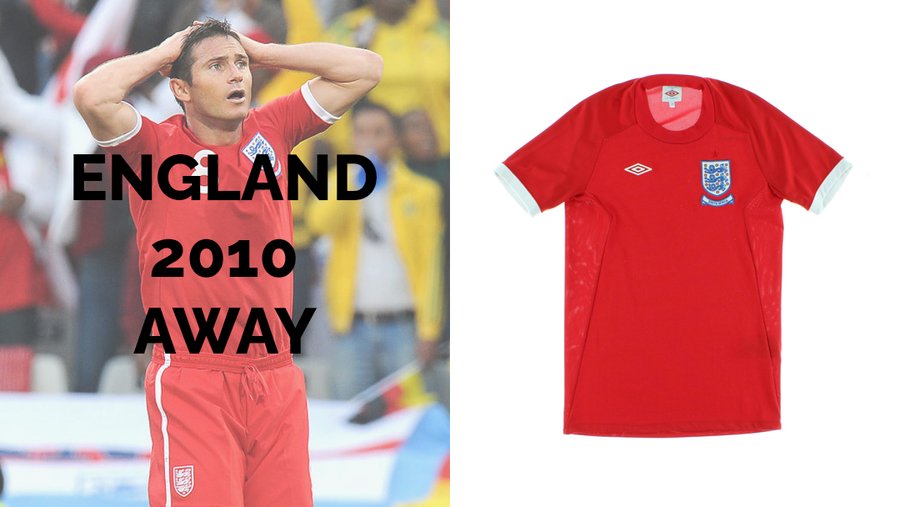 I didn't buy another England shirt for a good while after Euro 96, but came back into the fold with the classic home shirt of 2009-10. However, my fifth pick is the 2010 tailored by Umbro away shirt in a darker red than usual. This was a good modern take on the 1966 World Cup Final-winning shirt, albeit with white cuffs. It was actually worn in the same fixture, England vs Germany, at the 2010 World Cup, unfortunately we didn't get the same result as '66 losing 4-1.
Latest from VFS blog
We asked match worn Republic of Ireland shirt collector Eddie to show off his best shirts...
Club Almirante Brown may have gone under the football shirt fanatics radar until now, however...
When people think of a Derby County kits, their first thought is a white shirt and black shorts...
When you think of Inter Milan you think of both great football players and stunning soccer...
Have you ever sat in the wrong end and tried not to celebrate a goal?When we were looking at vintage...
One of Best Shirt of 2020 has Arrived (and it's made by a six-year old!)Among all the chaos and...