Club Tijuana Special Star Wars Kits by Charly Futbol
(Posted on 01/09/21)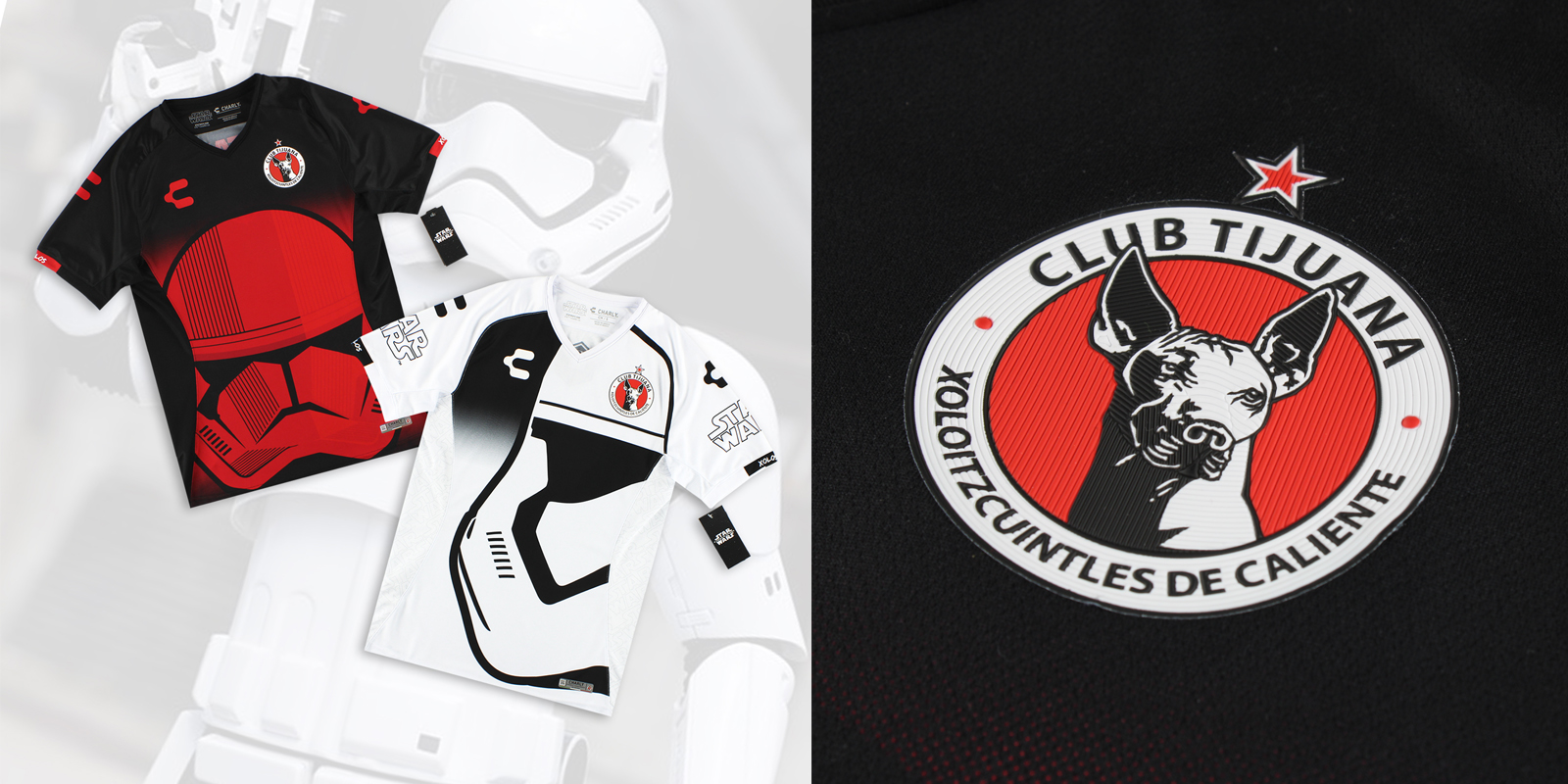 It's probably not the collaboration we were expecting when Club Tijuana and Star Wars unveiled the new stormtrooper jerseys in 2019-20, but we weren't complaining when they were unveiled and now they are available at Vintage Football Shirts.
In 2019 Mexican club Club Tijuana Xoloitzcuintles de Caliente, commonly known as Tijuana, or simply as Xolos, presented a set of football shirts by Charly Futbol inspired by one of the greatest movie franchises of all-time, Star Wars. The Disney bosses presumably decided they needed to gain a stronger foothold in Mexico and to achieve this they announced an official collaboration with Club Tijuana to promote the release of the latest Star Wars film, The Rise of Skywalker.
It wasn't Jedi's that were promoted to Mexican football fans, it was the dark-side of the force, with stormtrooper helmets being represented on both a red home kit and a white goalkeeper kit. The kit was presented with Stormtroopers, taking a well-earned break from the Deathstar, either side of the players on a Star Wars branded stage and at the first match of the season the famous white characters escorted the players onto the pitch. The new kits did allow the club's players to use the force in the Copa MX with the side reaching the final convincingly beating Toluca 7-2 semi finals. The side narrowly missed out on the trophy losing 2-1 against Monterrey over two legs.
We can all agree that whether you're a Star Wars fan or not, these Club Tijuana shirts are a collectors dream. We'll definitely be keeping one for our personal collection as well as helping you add them to yours.
2019-20 Club Tijuana 'Special Star Wars' Shirt *BNIB*
Sale £45.00
(Approx $59 / €52)
Latest from VFS blog
With the Trinidad and Tobago home and away kits BOL Football are showing that they can produce...
Empoli F.C. are a small club from Tuscany, Italy (30km from Florence). Formed in 1920, they are...
Crewe Alexandra are my team. The club based in the town of Crewe nicknamed 'The Railwaymen...
What colour do Middlesbrough play in? Well, red of course, usually with a dash (or more) of white thrown...
Ah, Watford FC. To the outsider it's that confusing club that sacks a manager every two months...
International shirts are quite often rigid in colour palette, and although this can be said about the...